Best Silicon nitride (Si3N4) ceramic ball 3.500mm Xingruida valve ceramic ball price Supplier
2 years ago
Silicon nitride ceramic ball is a kind of precision ceramic sintered at high temperature in non oxidizing atmosphere. It has high strength, high wear resistance, high temperature resistance, corrosion resistance, acid and alkali resistance. It can be used in seawater for a long time and has good performance of electric and magnetic insulation. Its density is 3.20g/cm3, which is almost 1 / 3 of the bearing steel. Its weight and centrifugal force are small when rotating. It can realize high-speed operation. [1]
It can be used in the environment without high pollution of lubricating medium. Become the preferred material of ceramic bearing and hybrid ceramic ball bearing. Zirconia ceramic ball has high strength and toughness, good wear resistance, high temperature and corrosion resistance, high stiffness, non-magnetic and electrical insulation at room temperature. When the temperature is 600 ℃, the strength and hardness of zirconia ceramic ball are almost the same. The density of zirconia ceramic ball is 6.00g/cm3, and the thermal expansion rate is close to that of metal. If the thermal expansion rate is close to that of metal, zirconia ceramic ball can be used in conjunction with metal.
Xingruida Best Silicon nitride (Si3N4) ceramic ball 3.500mm Xingruida valve ceramic ball price Supplier,Professional for customers to solve the problem of bearing selection
Suppliers
No.6, Lane 1, District 1, Xialiao village, Shatian community, Kengzi street, Pingshan District, Shenzhen
Compared with steel balls, the main advantages of silicon nitride balls are as follows:
1. It is 59% lighter than the steel ball, which greatly reduces the centrifugal force, rolling and wear of the bearing at high speed and acceleration;
2. The elastic modulus is 44% higher than that of steel, which means that the deformation is much less than that of steel ball;
3. The hardness is higher than that of steel, and the HRC is 78;
4. The friction coefficient is small;
5. The coefficient of thermal expansion of steel is 1 / 4 of that of steel, which can withstand the drastic change of temperature;
6. It is easy to obtain almost perfect surface finish, and RA can reach 4-6 nm;
7. High temperature resistance: silicon nitride ceramic ball still has high strength and hardness at 1050 ° C;
8. Never rust, can work without oil lubrication;
9. It is more resistant to chemical corrosion than steel;
10. No metal pollution;
11. No magnetism;
12. Electrical insulation.
13. There is no adhesive wear;
The combination of these excellent properties makes silicon nitride the first choice for high performance bearing rolling element materials.
Purpose:
Silicon nitride ceramic ball can be used in all kinds of bearings with limit performance requirements: high / ultra-high speed bearing, high precision bearing, vacuum bearing, high / low temperature bearing, non-magnetic bearing, high precision ball screw; it can also be used in chemical pump, high temperature pump and metering pump as valve ball, mobile valve, fixed valve and measuring ball.
Silicon nitride ceramic balls are generally assembled into hybrid bearings, which can be used in high-tech industries such as aviation, national defense and other industries, and can also be widely used in chemical industry, metallurgy, medical treatment, food, oil field, electronics and other industries.
Product features: stable performance and good consistency.
● diameter specification: Ф 0.4mm ~ Ф 140mm.
● available levels: G5 ~ G100.
● remarks: 1) black silicon nitride balls are the main ones. If necessary, gray silicon nitride balls can also be provided. 2) With a large amount of inventory, can meet the requirements of delivery at any time. 3) It can meet the requirements of various non-standard sizes and specifications. 4) Compared with hot isostatic pressing (hip) silicon nitride ball, it has lower strength and worse bearing capacity.
Placing a hot pan directly on this product, spilling liquids all over it, or the claws of a pet will not have any effect on it.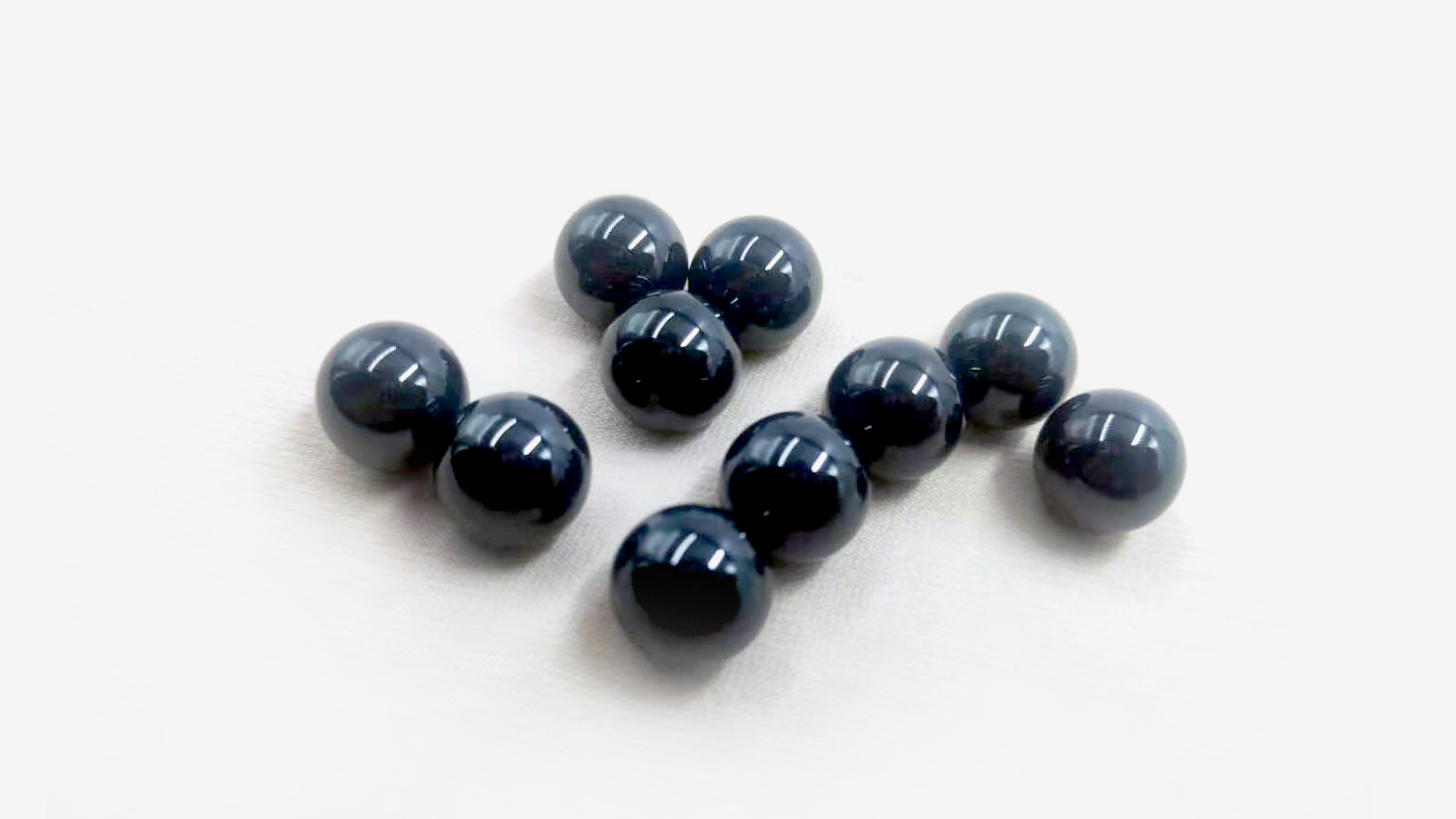 FAQ
1.What are the advantages of zirconia ceramic bearings
High temperature resistant, corrosion resistant, acid and alkali resistant, oil-free, self-lubricating, low cold and non magnetic
2.How many degrees can zirconia ceramic bearings withstand high temperature
Zirconia ceramic bearing full ball can withstand high temperature about 400 degrees, with retainer can withstand high temperature about 160 degrees
3.Which material of plastic bearing is wear resistant
POM plastic bearing is commonly known as saigang
Advantages
1.Shenzhen Xingruida Bearing Co., Ltd. has complete models, fast delivery, low price and high quality
2.Professional for customers to solve the problem of bearing selection
3.One stop production line from blank to finish machining
4.Shenzhen Xingruida Bearing Co., Ltd. has advantageous location and convenient transportation
About Xingruida
Shenzhen Xingruida Bearing Co., Ltd. is a private high-tech enterprise, which is mainly engaged in R & D and large-scale production of special bearings and structural parts of various materials. It is a manufacturer of special bearings with certain scale strength integrating R & D, design, manufacturing, sales and service, The first-class production equipment and testing instruments and methods can fully meet the processing requirements of various types, specifications, accuracy levels and special use of bearing products. At present, the product structure is mainly divided into: ceramic structural parts, all ceramic bearings, hybrid ceramic ball bearings, high-performance plastic bearings, non-magnetic stainless steel bearings and other kinds of special non-standard special bearings. Products are oil-free self-lubricating, widely used in semiconductor production and assembly, petroleum, chemical, electronics, electroplating equipment, textile, food, medical, aerospace and other fields. The company has professional senior engineers engaged in the development of all kinds of special high-performance bearings and molds. They have high R & D ability, exquisite design and development ability, superb manufacturing technology and rich experience in solving product applications.