Customized 5-Year Warranty Linkable 200W 2.8Umol/J Full Spectrum High PPFD 660nm LED plant Growth Light manufacturers FromChina
2 years ago
China Top - Selling 5-Year Warranty Linkable 200W 2.8Umol/J Full Spectrum High PPFD 660nm LED Grow Light 
- More than 50% higher in PPFD compared with HID lamps 
- Energy saving with 37% lower power consumption than HID lamps 
- Linear design, ±90° rotating surface, can be linked to multiple products
- Compatible with LiteHome Controller 
- Dimmable: 0/1-10V Dimming 
- RJ11 Network cable connector multiple linkable
- IP65 Waterproof 
- 5-year warranty
Suppliers
Floor 3, building C, Zhaofeng Industrial Park, No. 16, Shuitian 1st Road, Tongle community, Baolong street, Longgang District, Shenzhen, P.R.C
Waterproof IP65 with high reliability in humid environments Full Spectrum LED Grow Light
| | | |
| --- | --- | --- |
| Item Code | LH-GLALX-200-XXXX | LH-GLALX-240-XXXX |
| Dimension (mm) L*W*H | 1015*126*56mm | 1265*126*56mm |
| Power | 200 Watt | 240 Watt |
| LED Q'ty | 636 (3000K 504 pcs & 5000K 108 pcs & RED 655-660nm 24 pcs) | 795 (3000K 630 pcs & 5000K 135 pcs & RED 655-660nm 30 pcs) |
| Efficacy | 2.8 μmol/J | 2.8 μmol/J |
| Average PPFD | 680 μmol/m²/s | 760 μmol/m²/s |
| Lumen | 23000 - 30000 Lm | 30000 - 36000 Lm |
| Input Votage | AC100-277V / AC180-347V / AC 200-240V | AC100-277V / AC180-347V / AC 200-240V |
| LED Chip | Samsung / Osram | Samsung / Osram |
| Lifespan | 50, 000 hours | 50, 000 hours |
| Dimming Option | 40% / 50% / 60% / 80% / 100% | 40% / 50% / 60% / 80% / 100% |
| Dimming interface | RJ11 | RJ11 |
| Feature | Knob Dimming or By Controller | Knob Dimming or By Controller |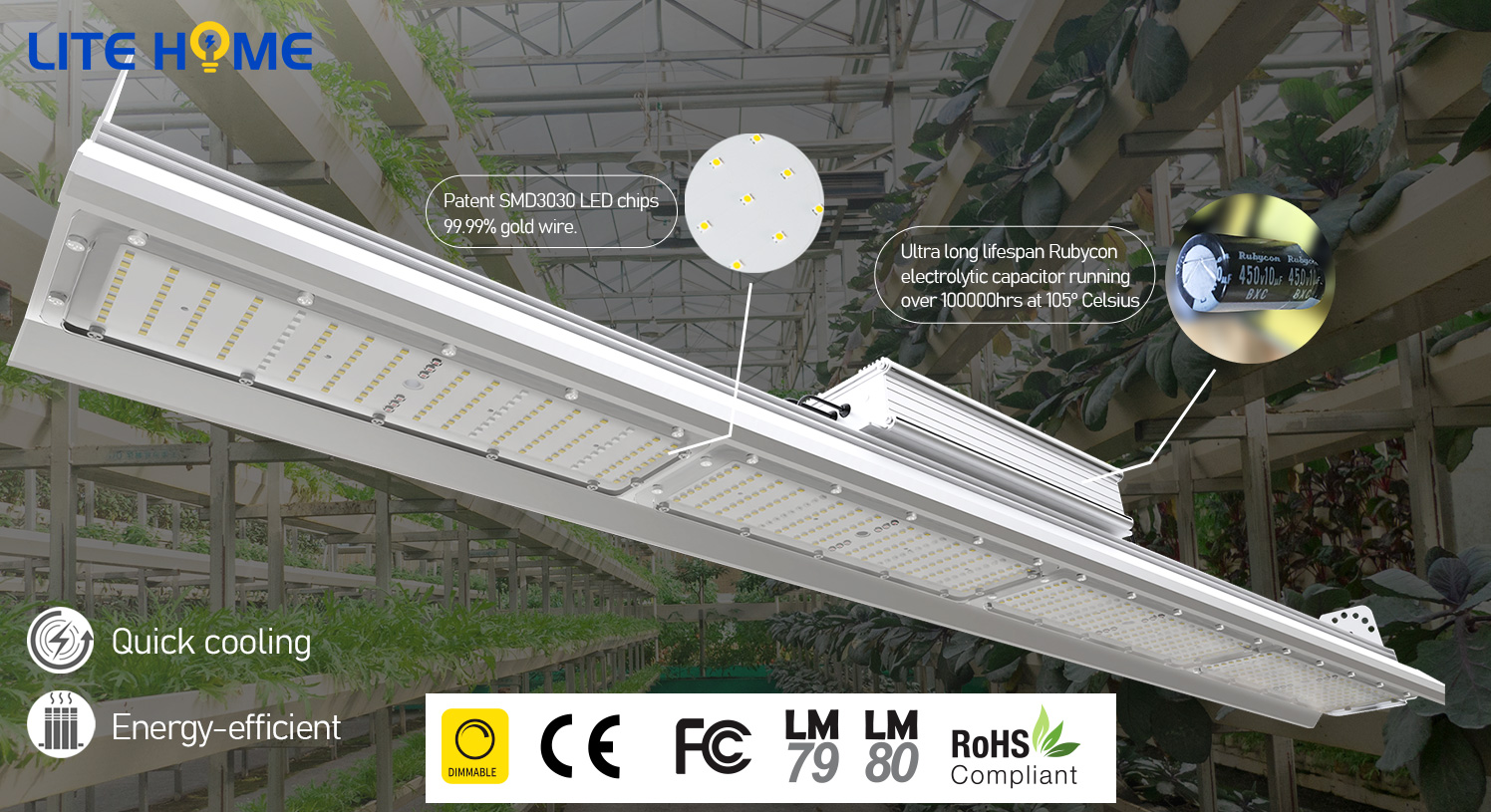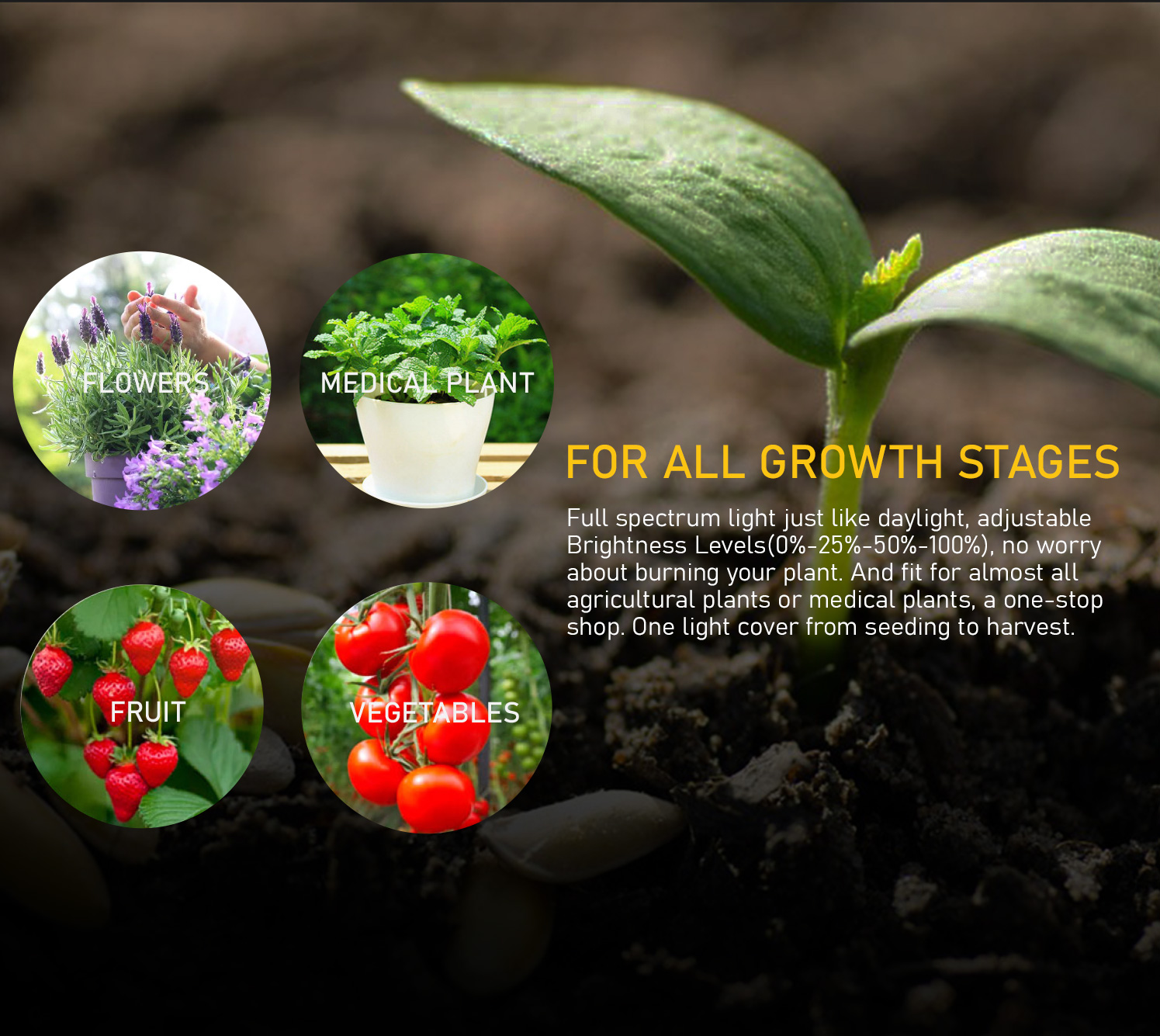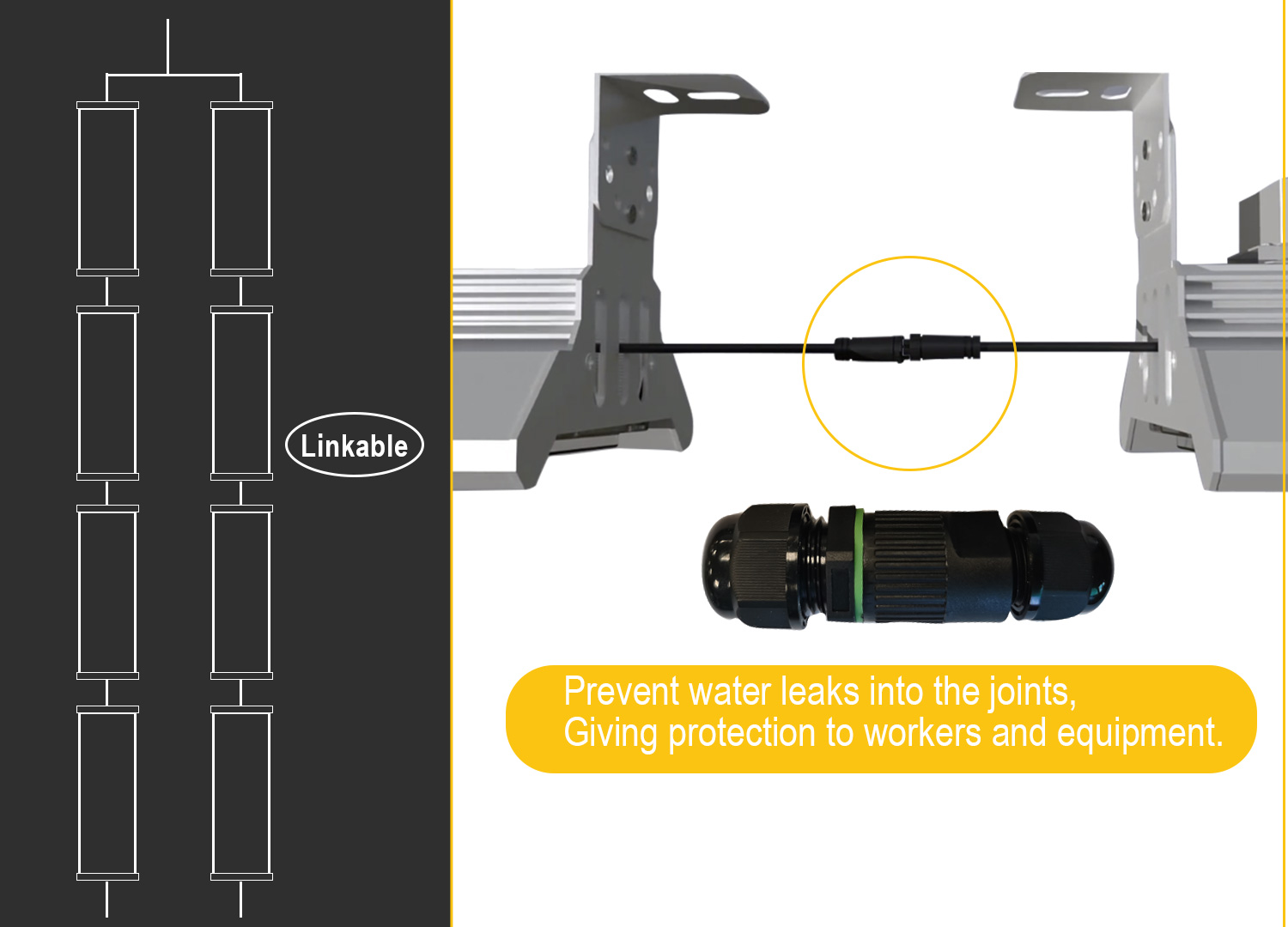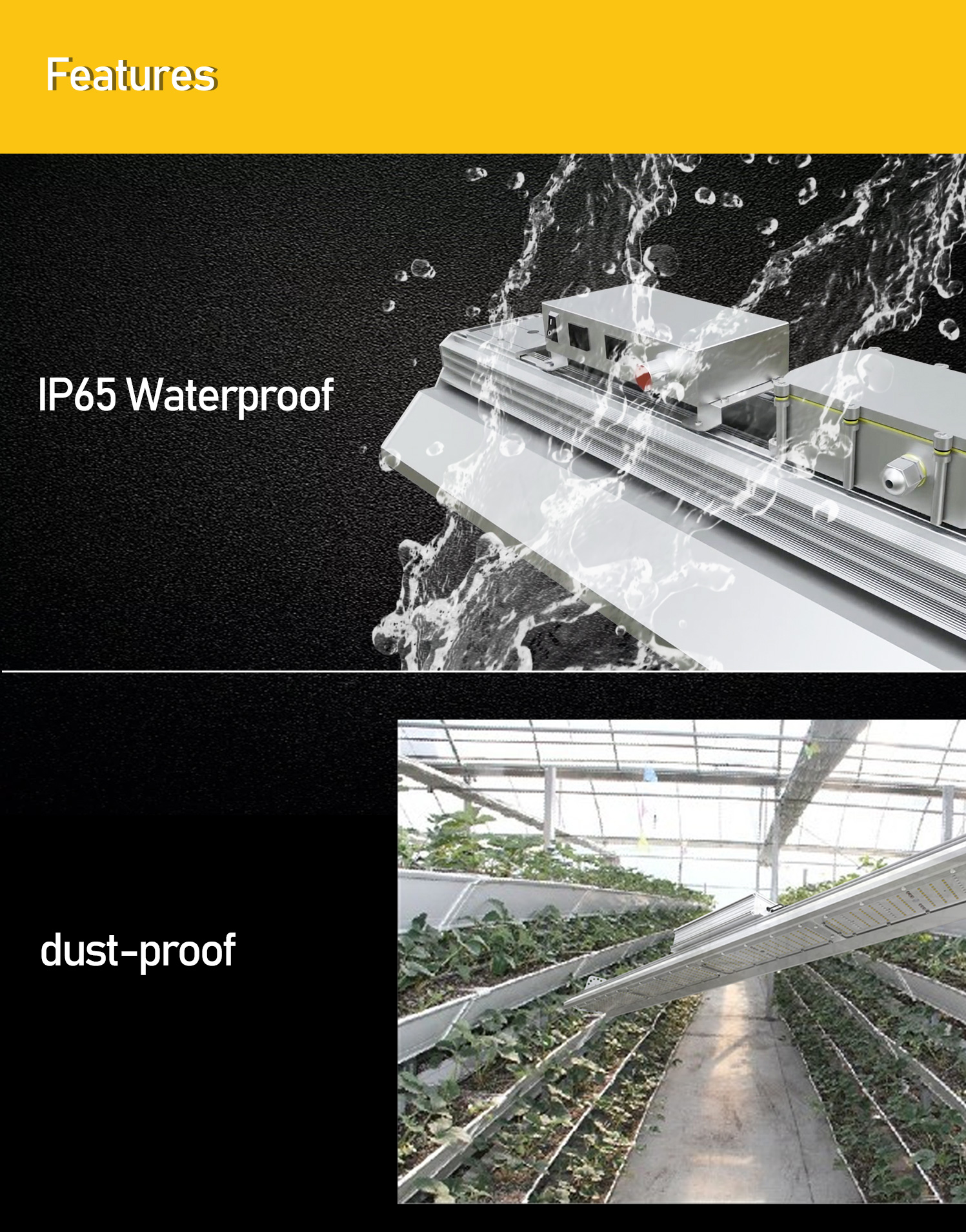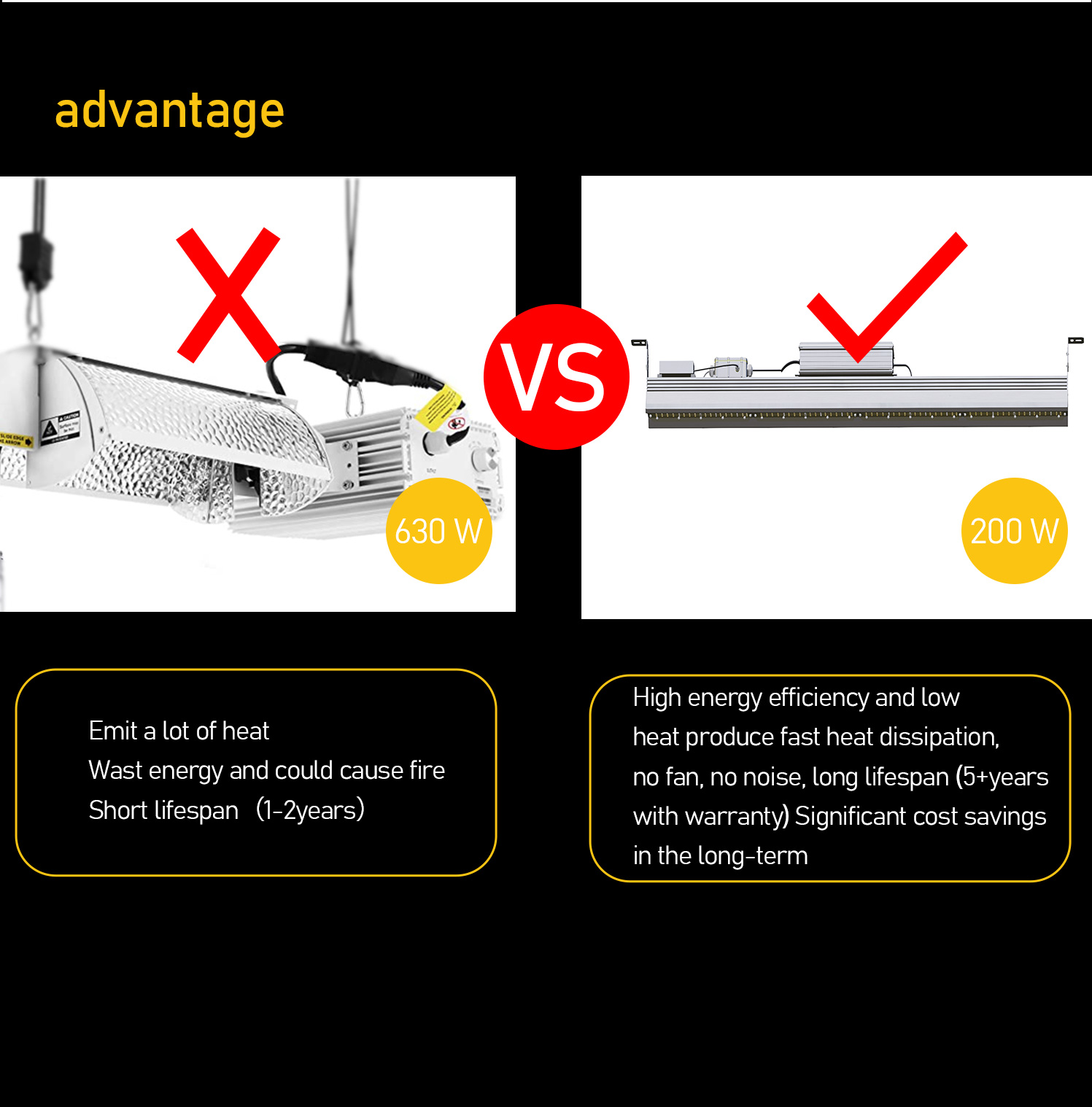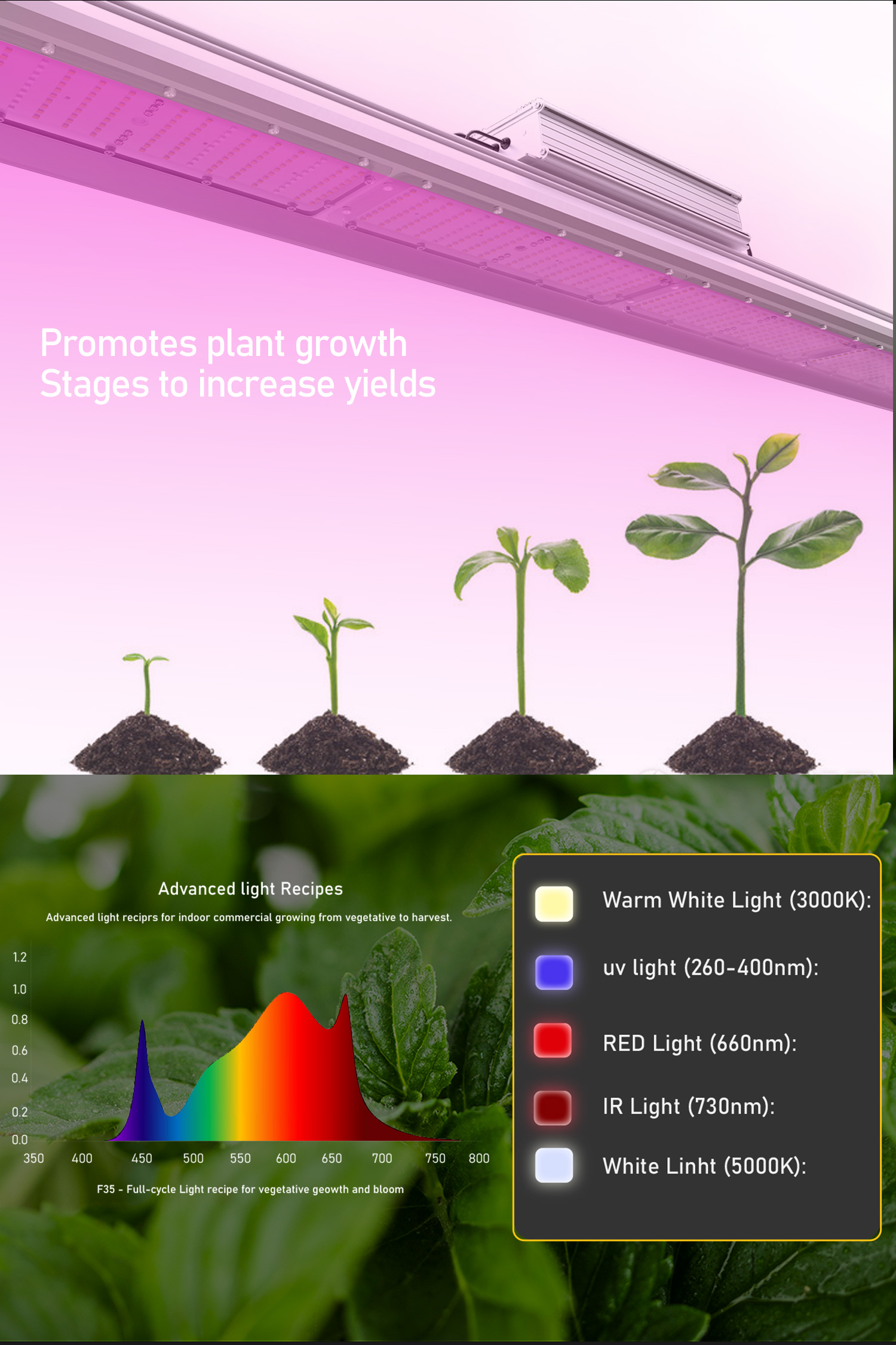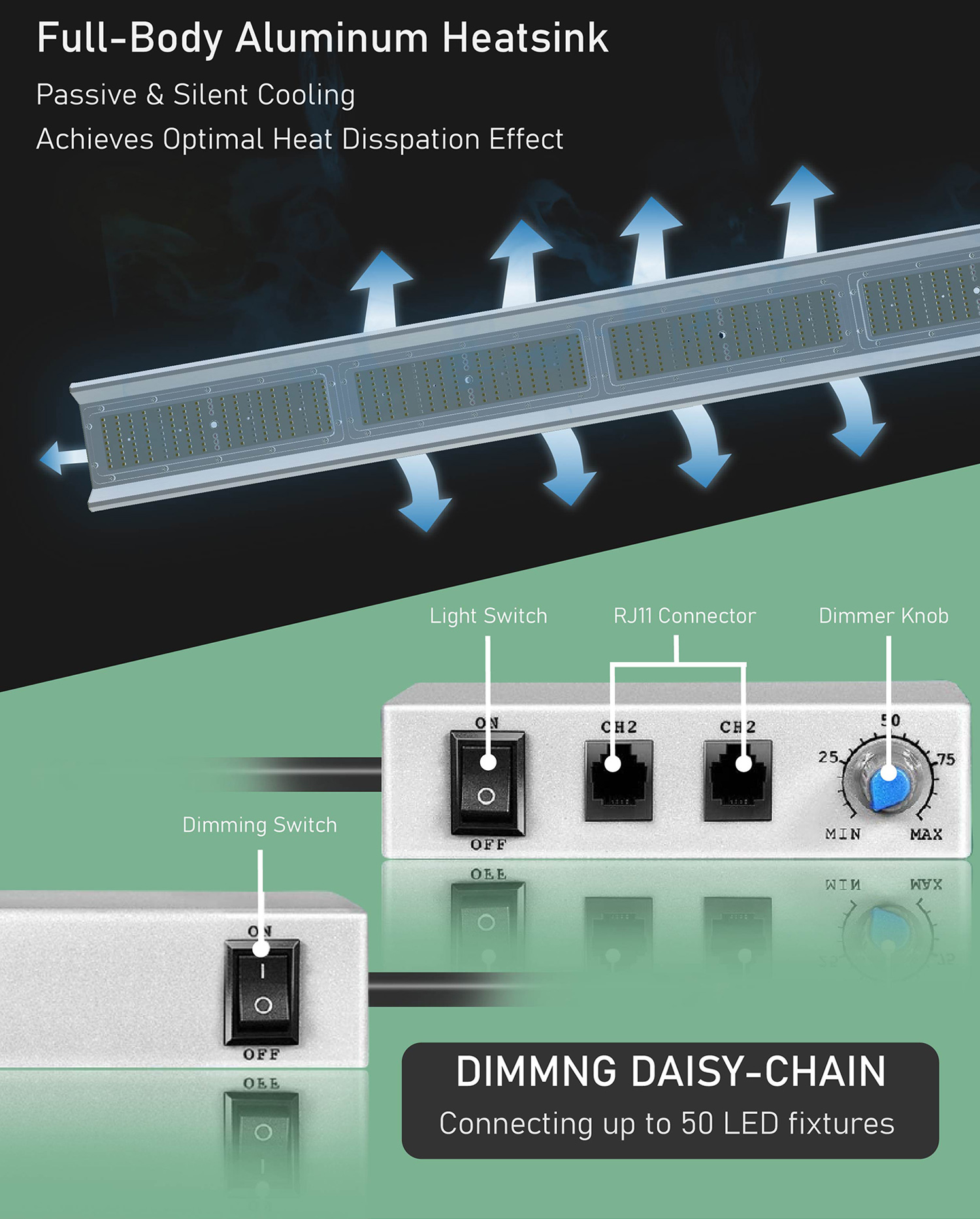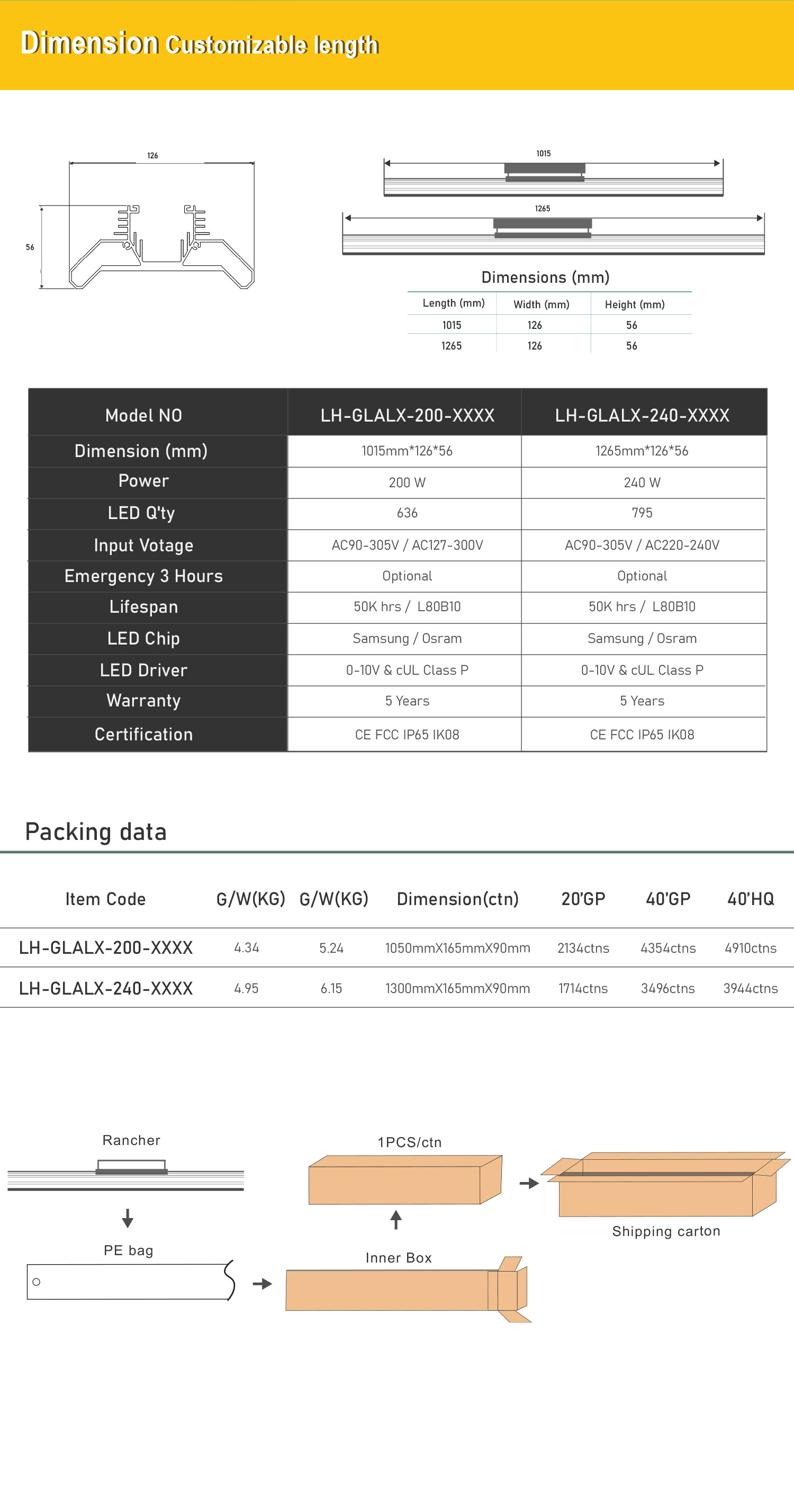 Basic Terms That You Should Know About LED Grow Light
Light Spectrum
Regular (photoperiod) plants(Including vegetable gardening flowers bonsai succulent plants cannabis and so on) require different spectrums of light to produce flowers. Blue spectrum light is needed during the vegetative stage, while red spectrum light is needed to transition to the flowering stage. However, if you start with autoflowering plants, you will not need to change the lighting to start the flowering stage, so the light spectrum is less of a concern.
Back to LED lights,it is usually a good idea to purchase lighting that has both blue and red light spectrums. With regular plants, it saves you from the hassles and costs associated with changing the lighting to induce flowering. LED lights have a full spectrum of light, so you can use the same lights from seedling to harvest.
Wattage
Wattage refers to a light's power rating. Pay attention to this number because it has a bearing on how many lights you will need. For example, if you have a smaller grow space, one light with high wattage may be enough. However, if the lighting you choose has low wattage, you will need additional lights to provide the proper coverage.
Wattage also helps determine how far away you should keep your plants. Generally speaking, higher wattage lights need to be positioned further away from your plants because they can burn them. LED lights are an exception to this rule because they give off surprisingly less heat when compared to the other types of lighting with the same wattage.
Plus our products have thick aluminum alloy back plate(3mm-6mm) and efficient heat dissipation structure, heat dissipation function beyond most similar products,there will be no heat accumulation.As a result LEDs run very cool and many growers are able to get away without venting heat at all.Tips in case you don't know,No fans no noise !
Lumens
Lumens is a measure of how much light a given light source emits during each second the light is on. Like the light spectrum, lumens are more relevant for photoperiod plants. "Regular" cannabis plants require varying amounts of lumens during the different stages of growth. For example, they need between 2,500 and 5,000 lumens per square foot in the vegetative phase, but it jumps to 10,000 lumens per square foot during the flowering phase.
That is why it is a good idea to assess the lumen measurement when considering lights for growing . Plants need lights that provide enough lumens intensity for their proper growth.
Kelvins/Color Temperature
Kelvins refer to the warmth and color of the light being emitted. During the vegetative stage, cannabis thrives best when provided cool daytime blue light with approximately 6,400 kelvins. Conversely, flowering cannabis performs best with a warmer red light of 2,700 kelvins.
As you can see, picking the best lights for growing weed is more than simply selecting the priciest model available. Especially if you are growing photoperiod plants, you should think about how many plants you are growing, where you will be growing them, and how much energy you can afford to spend.
Total Cost
When it comes to long-term cultivation, you need to take into account the cost of electricity bills, equipment and Lamp damage, maintenance costs and the labor costs incurred at the same time.The LED lights come with all of the above advantages, plus a very long life span (five year warranty). Our products use the highest quality, expensive chip beads on the market, and can operate for over 100,000 hours in typical 45°C/113°F usage environments. The savings in the long run can be significant.
With all these variables in mind, you can then consider your options.
FAQ
Q1. What are the advantages of LiteHomeLED and its items?
1. LiteHome LED is one of professional LED Grow light and LED Linear light manufacturers.
2. We already had world wide customer and most of them located in Euro and North America.
3. We had 15 years experience with the LED Grow light and a sales team.
Q2. How is your company?
We had 15 years experience on LED grow light production, company size : 2000 square meters 3 electronic engineers, 5 QC workers, 15 salers for now, we located in Longhua Shenzhen City.
Q3.How long is the delivery time?
Usually we have material in stock , regular order delivery time 3--7 days after the order (PI) paid.
Custom products 8--15 days (Custom PCB)
Q4. How do i know your company reliable ?
a. Our company verified by Alibaba group
b. We had famous customer who distributing our products world wide (can be introduce)
c. contact a with our salesman for provide a cooperated customer's contact information who close to your city or country
d. use Skype ID video chat with our salesman to show you our factory, office etc...
Q5. How much tax should i pay for custom when we buy goods from you ?
Different country had different import policy, you need to figure out with Custom
we don't have a exact answer about this, but most of country 25% on the invoice value.
Q6. Can you accept OEM or ODM?
Yes, we can do both OEM and ODM for customers, Including wavelength, size, logo, etc.
Advantages
1.Development and production of commercial and industrial lighting products
2.Supermarket LED Linear lights
3.OEM & ODM FOCUS ON LED LINEAR LIGHTING Magnetic Led Track Light
4.FOCUS ON LED LINEAR LIGHTING
About LiteHome
Shenzhen Litehome Optoelectronic Technology Co., Ltd. is focus on led linear lighting oem&odm. Litehome led lighting manufacturers is a new high-tech enterprise and lighting manufacture, which combined with R&D, production and sales department. china recessed mounted led linear grille lamp suppliers hanging light suppliers, low bay linear light, china indoor grille linear light factory, fcc ul dlc etl cul cetl certification lighting of north america, ce tuv enec vde erp lighting of European, vde erp lighting of Germany, ce tuv enec ce ukca erp lighting of United Kingdom, ce tuv enec erp lighting of France, ce tuv enec vde erp l80b10 lm79 lm80 lighting of European Netherlands, ce certification lighting of Italy, SASO SASO2870 CNAS NO.L4595 certification led lighting of Orient Dubai UNITED ARAB EMIRATES
Suppliers
Floor 3, building C, Zhaofeng Industrial Park, No. 16, Shuitian 1st Road, Tongle community, Baolong street, Longgang District, Shenzhen, P.R.C