Customized 2400mm 8ft 80w 160lm/w LED Vapor Tight fixtures 3 Hours Emergency Kit manufacturers FromChina
2 years ago
IP66 IK09 Tubular led weatherproof light
PRODUCT DESCRIPTION
LiteHome Led Waterproof light fixture/LED vapor tight fixtures are designed to save energy and meet your lighting requirements in harsher than normal environments. They are vandal resistant and can be used indoors or outdoors. They provide superior light distribution and are intended for applications where moisture and/or dust may be present.
APPLICATIONS:
Cold storage locations
Food processing locations
Parking structures
Industrial locations
Metal/Wood Shops
FUNCTIONAL DESCRIPTION
3 Hours emergency
Dali Dimmable 
Bluetooth Dimmable
CCT Dimmable (3000K 3500K 4000K 4500K 5000K 5500K 5700K 6000K 65000K)
0/1-10V Dimmalbe
Wifi Dimmalbe
Microwave Sensor (Dim 10%~50%)
Suppliers
Floor 3, building C, Zhaofeng Industrial Park, No. 16, Shuitian 1st Road, Tongle community, Baolong street, Longgang District, Shenzhen, P.R.C
Coated with lacquer, LiteHome [ is designed with a tough structure and glossy appearance. It is an innovative combination of aesthetics and practicability.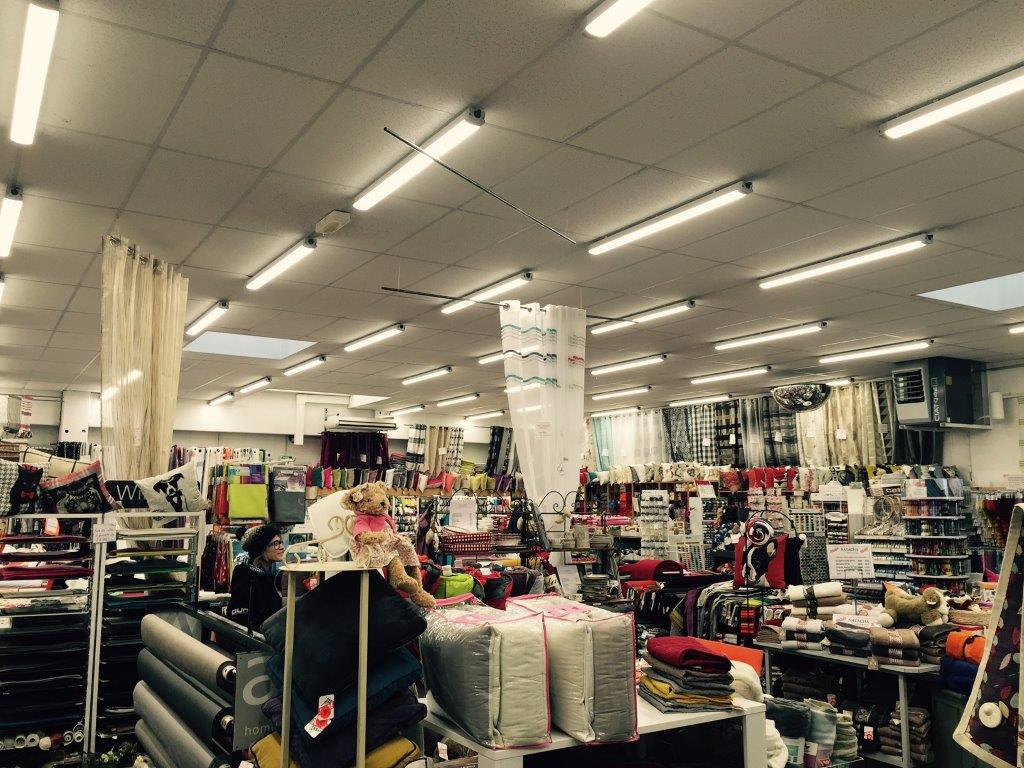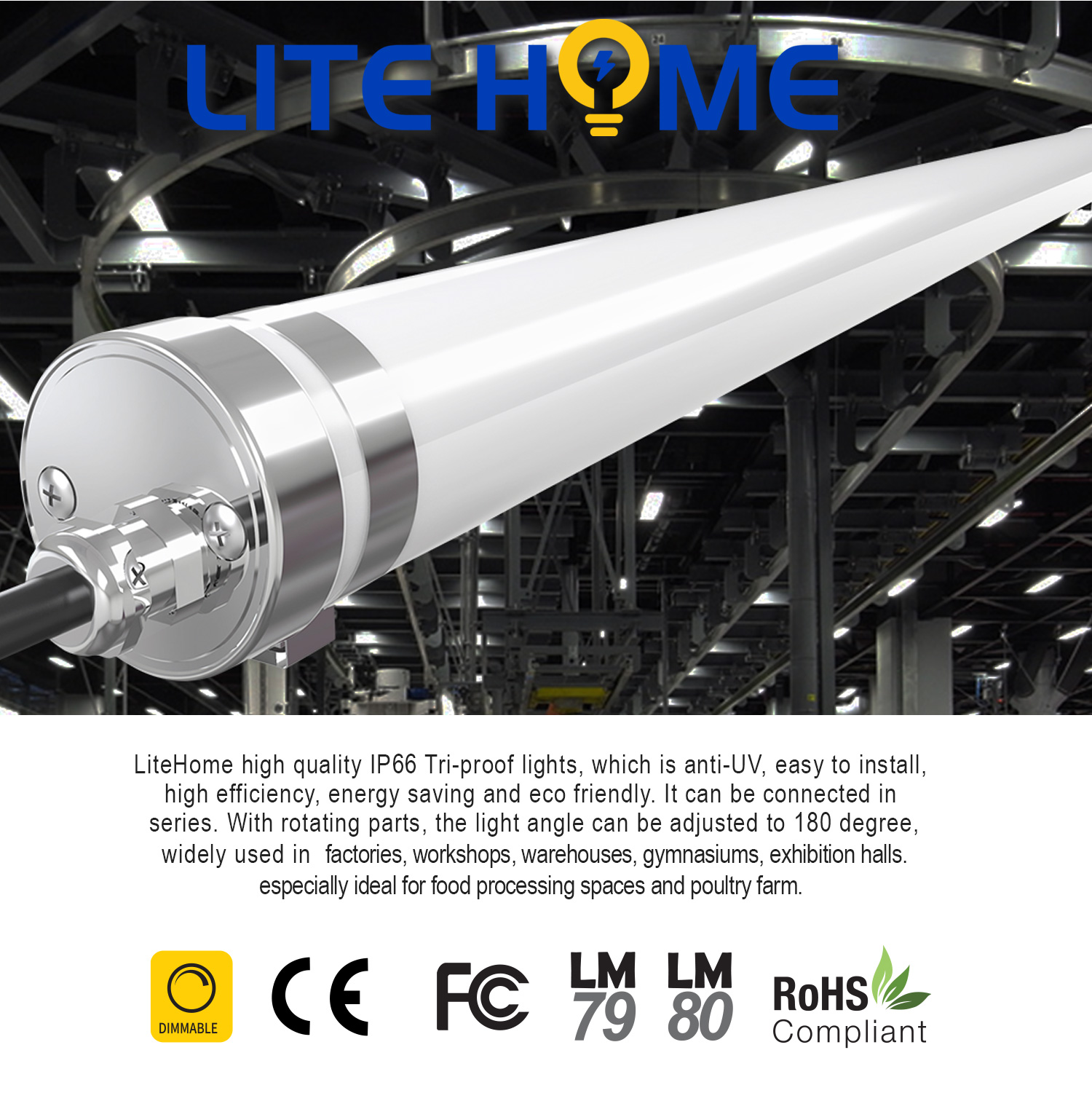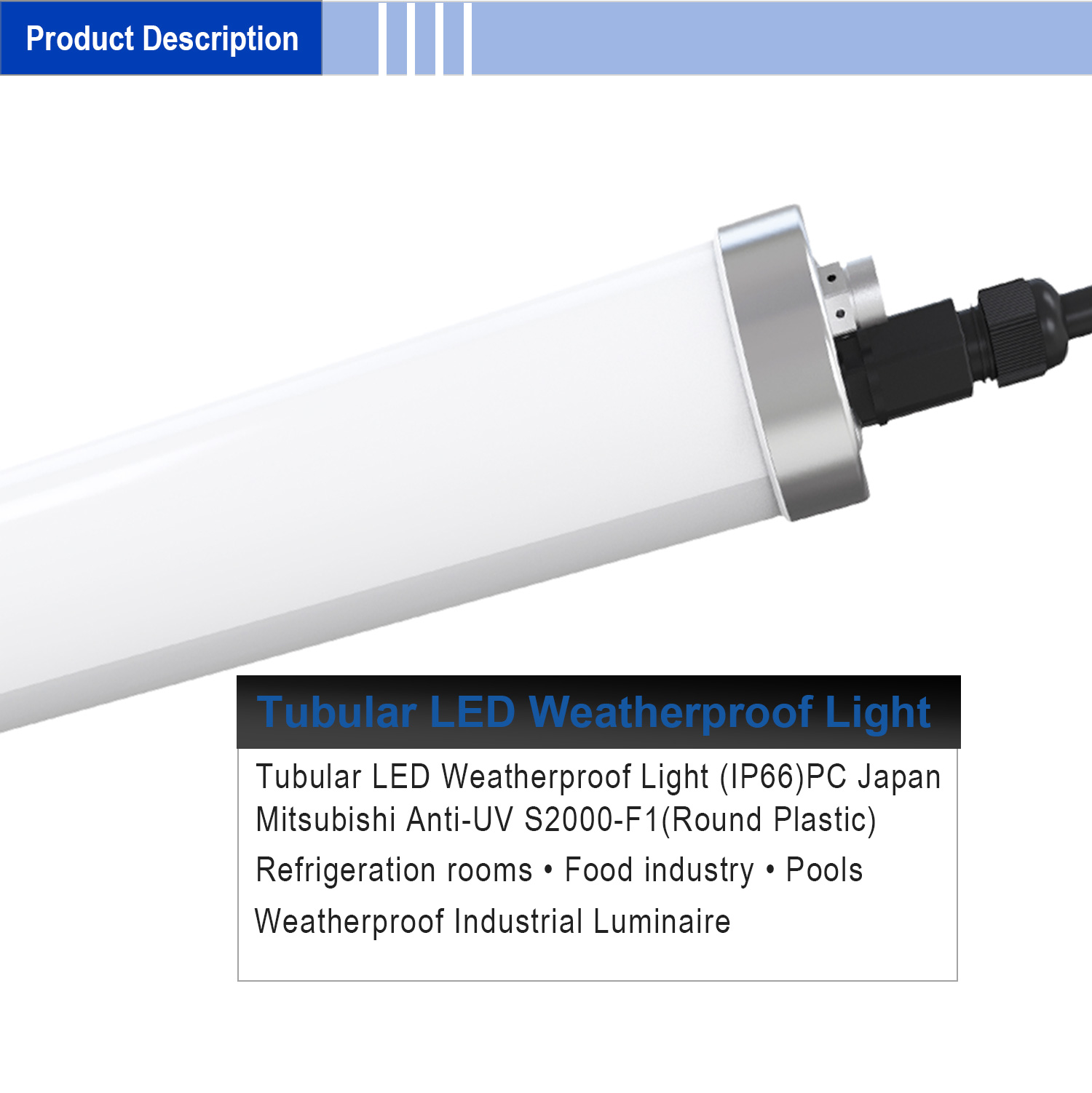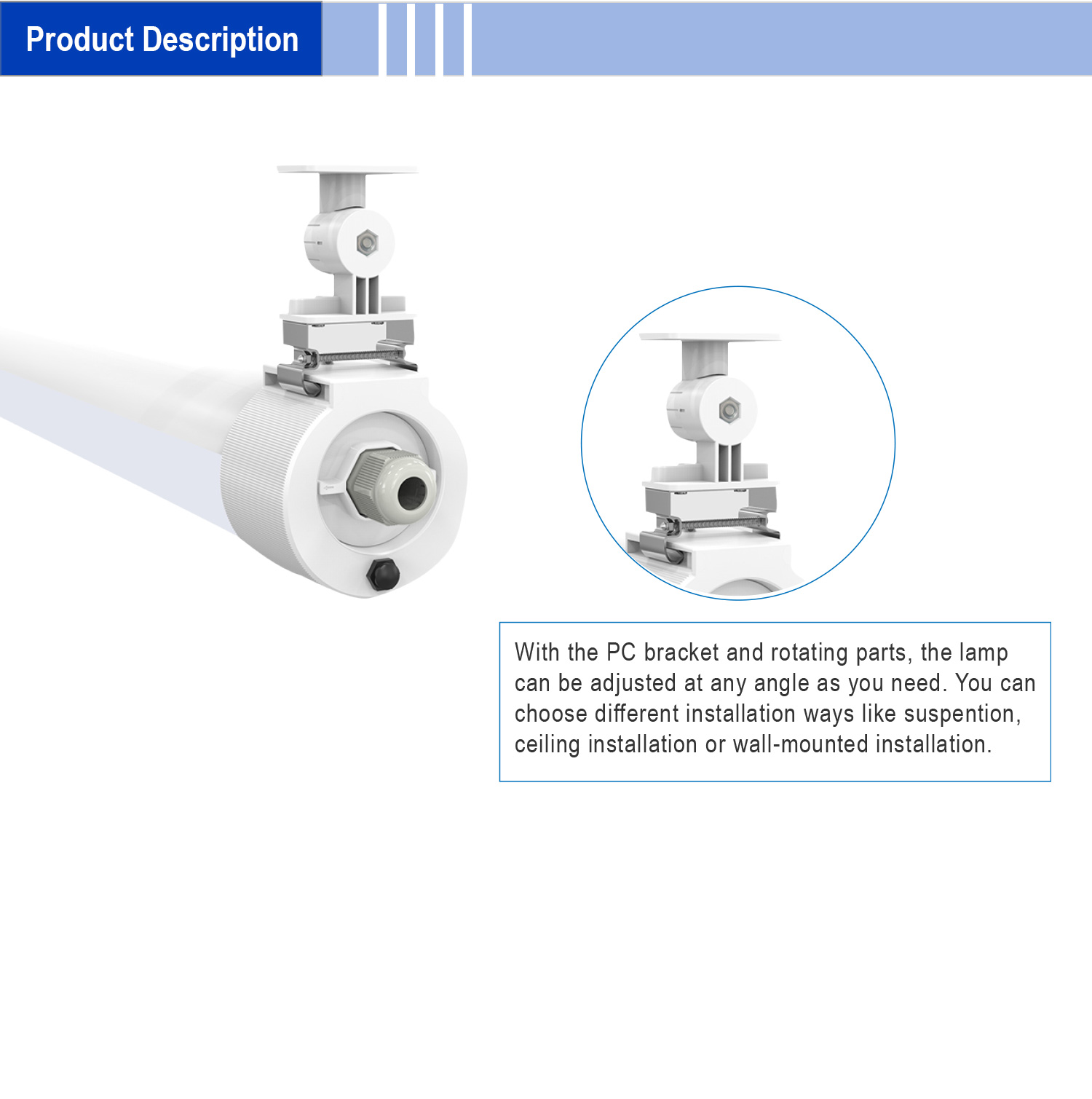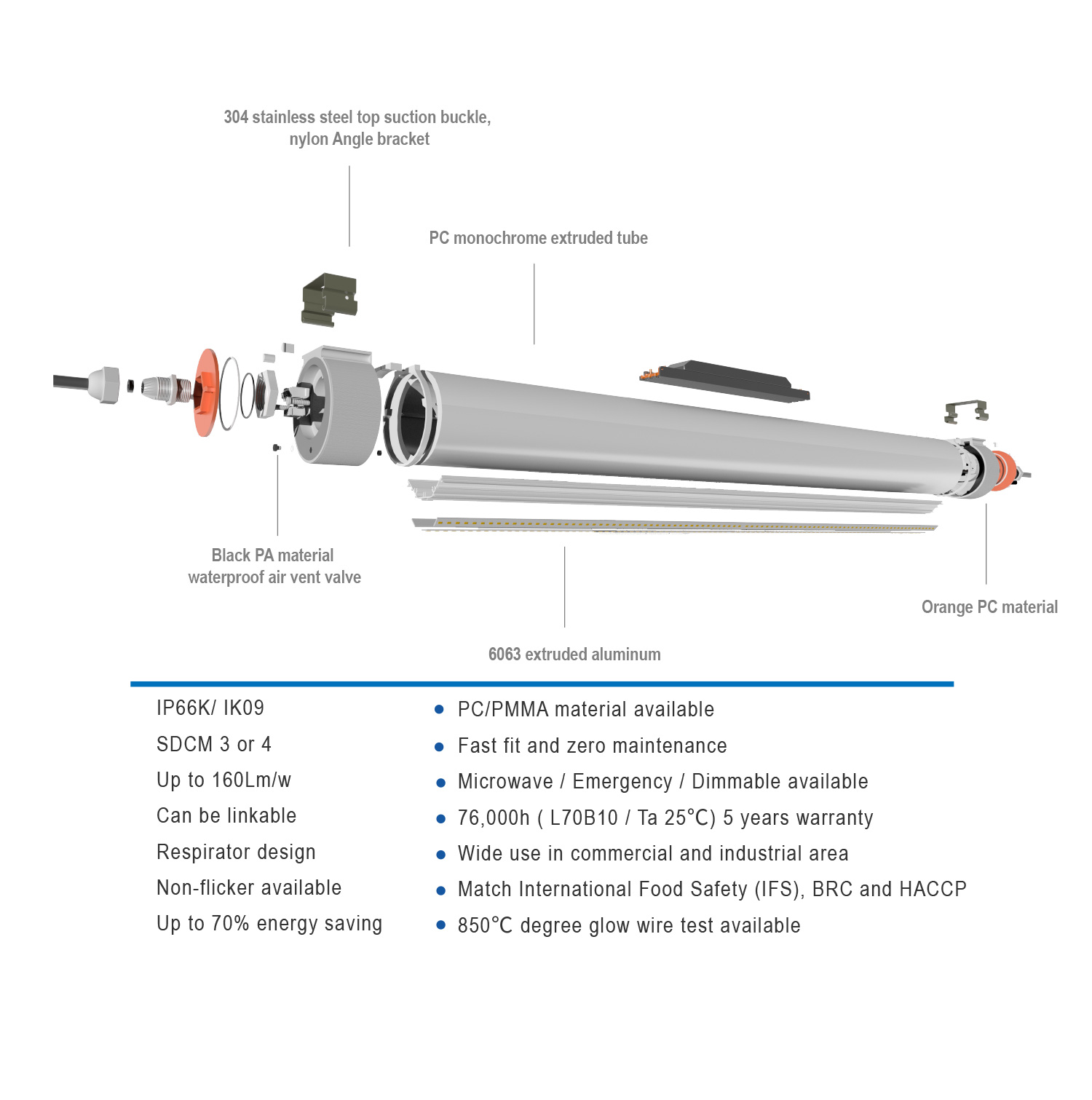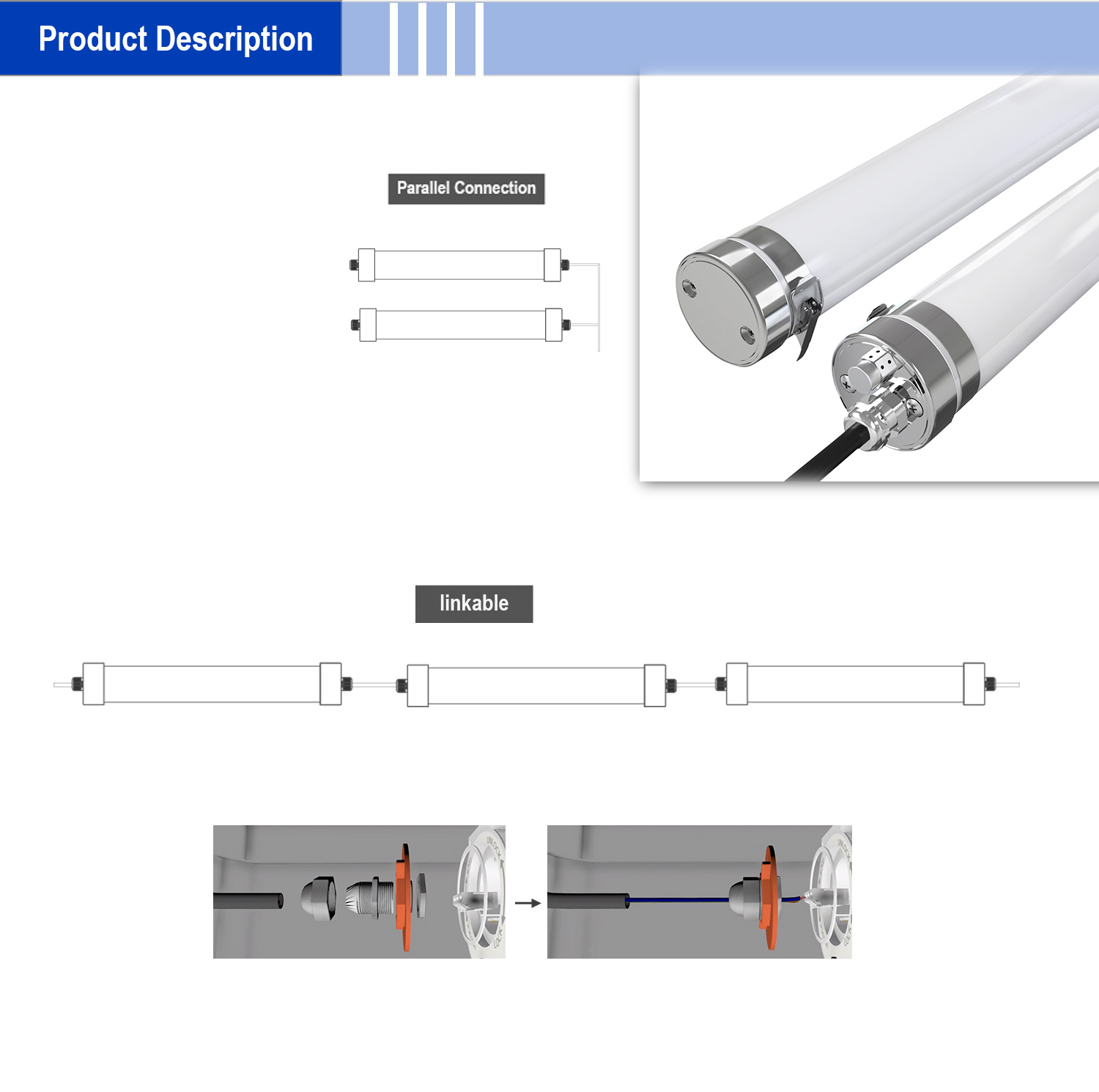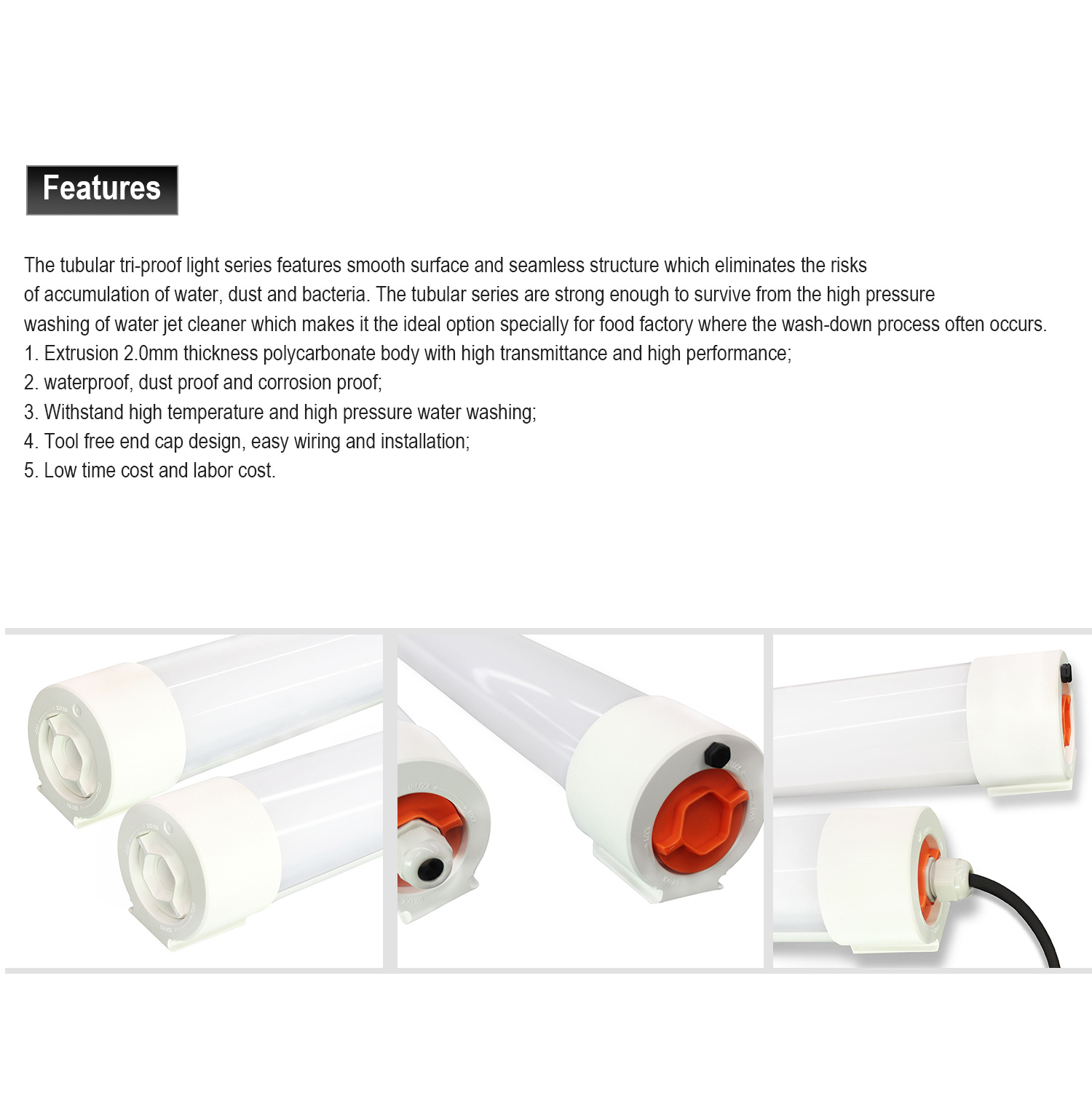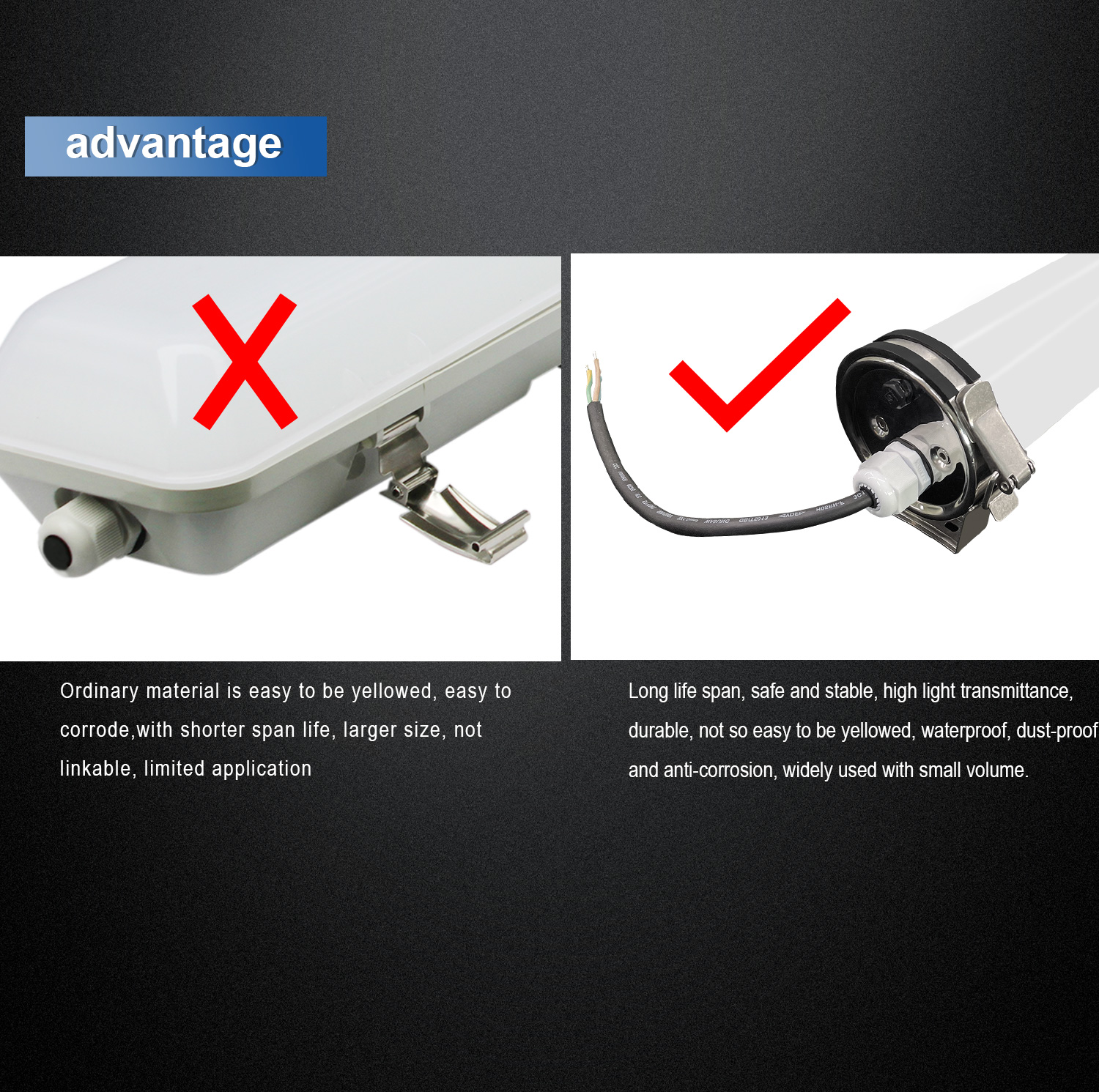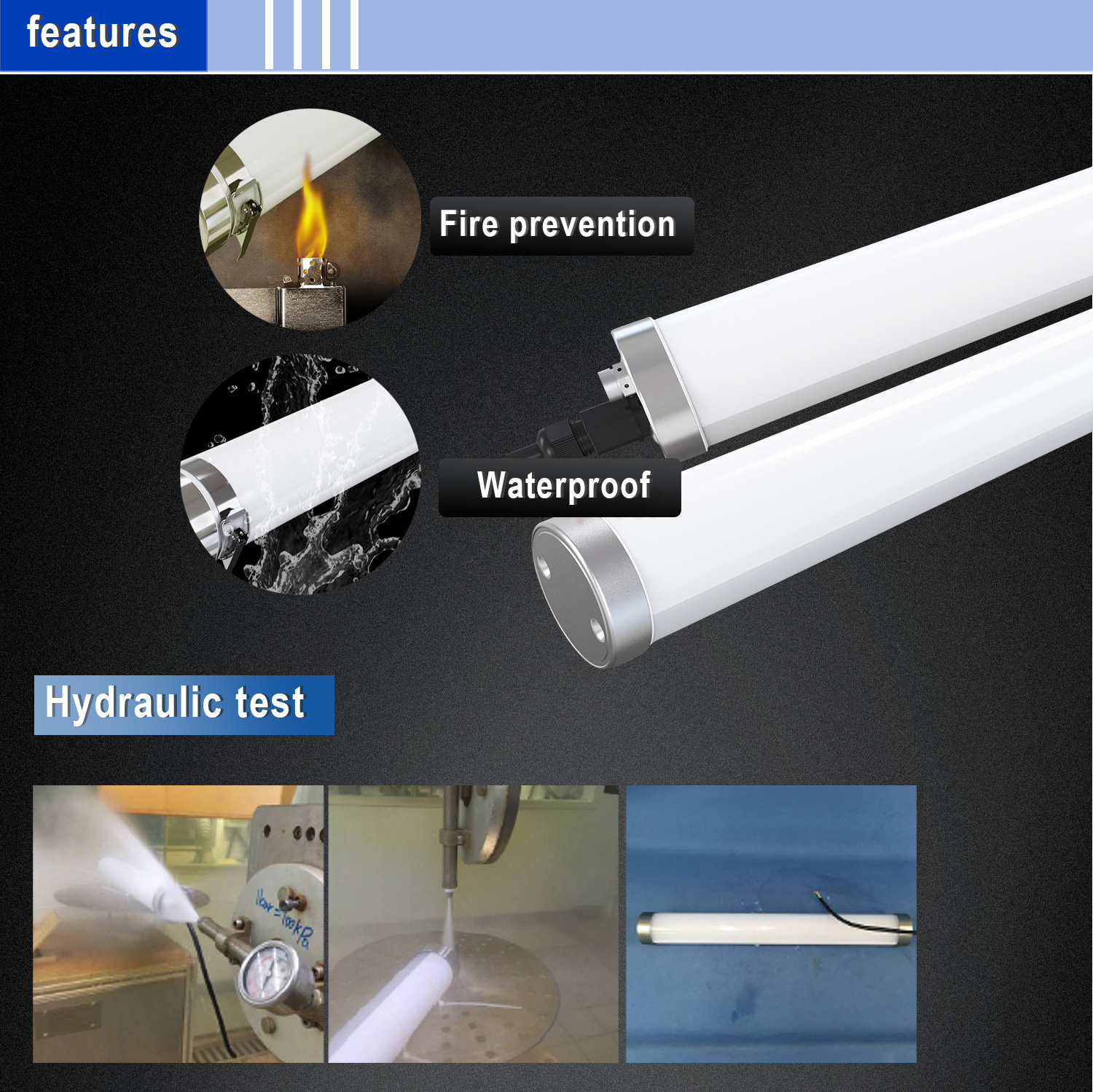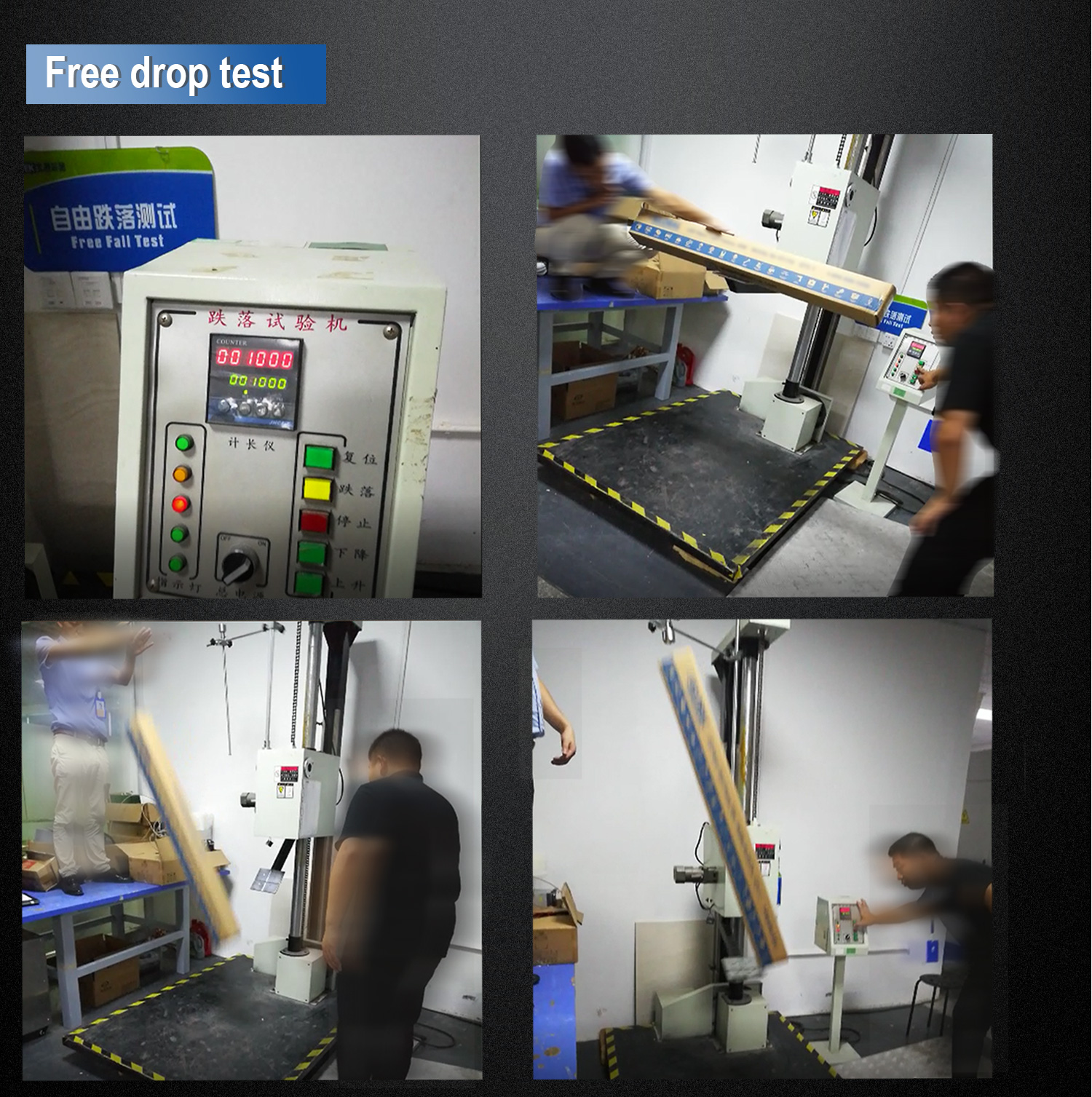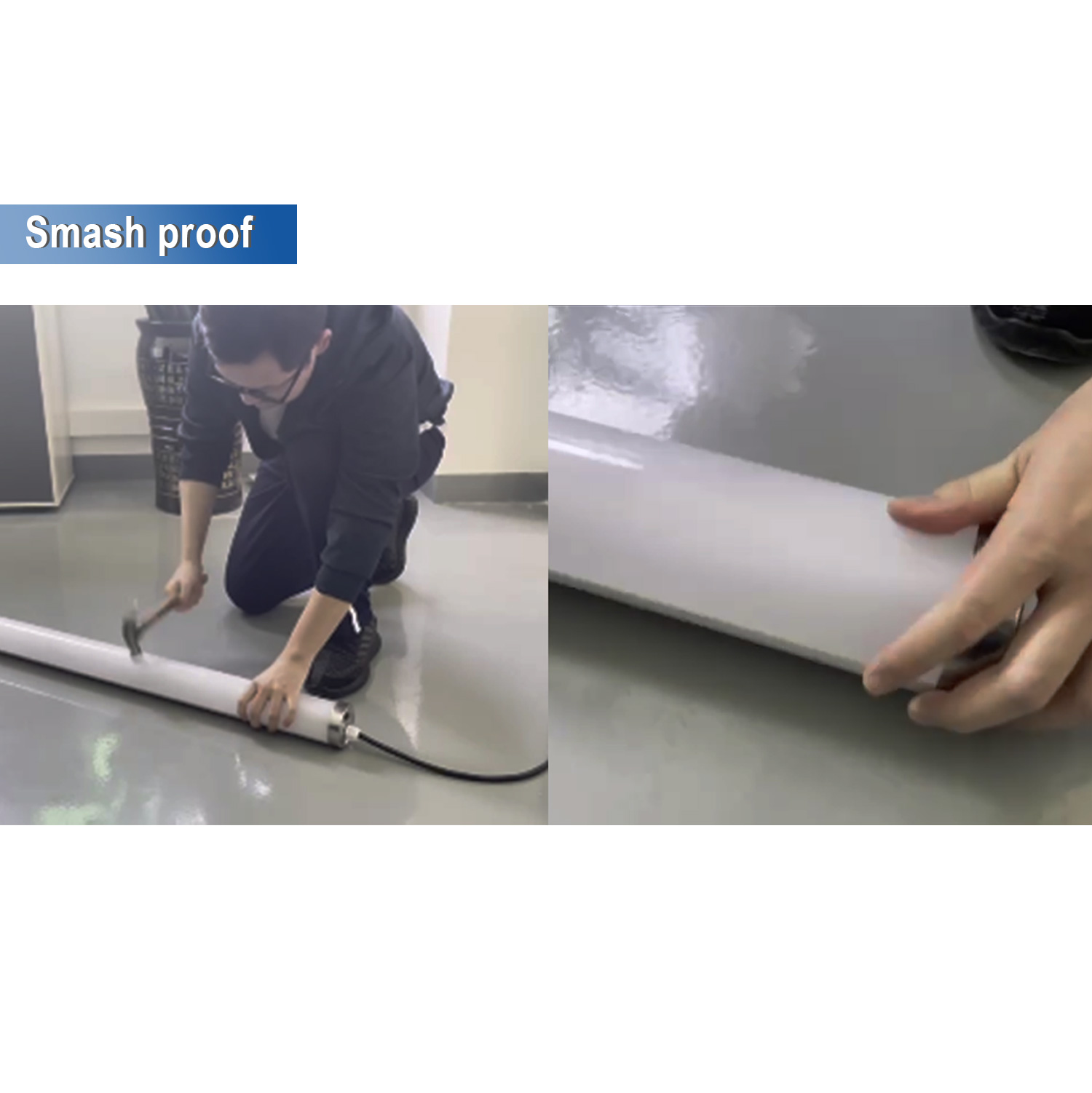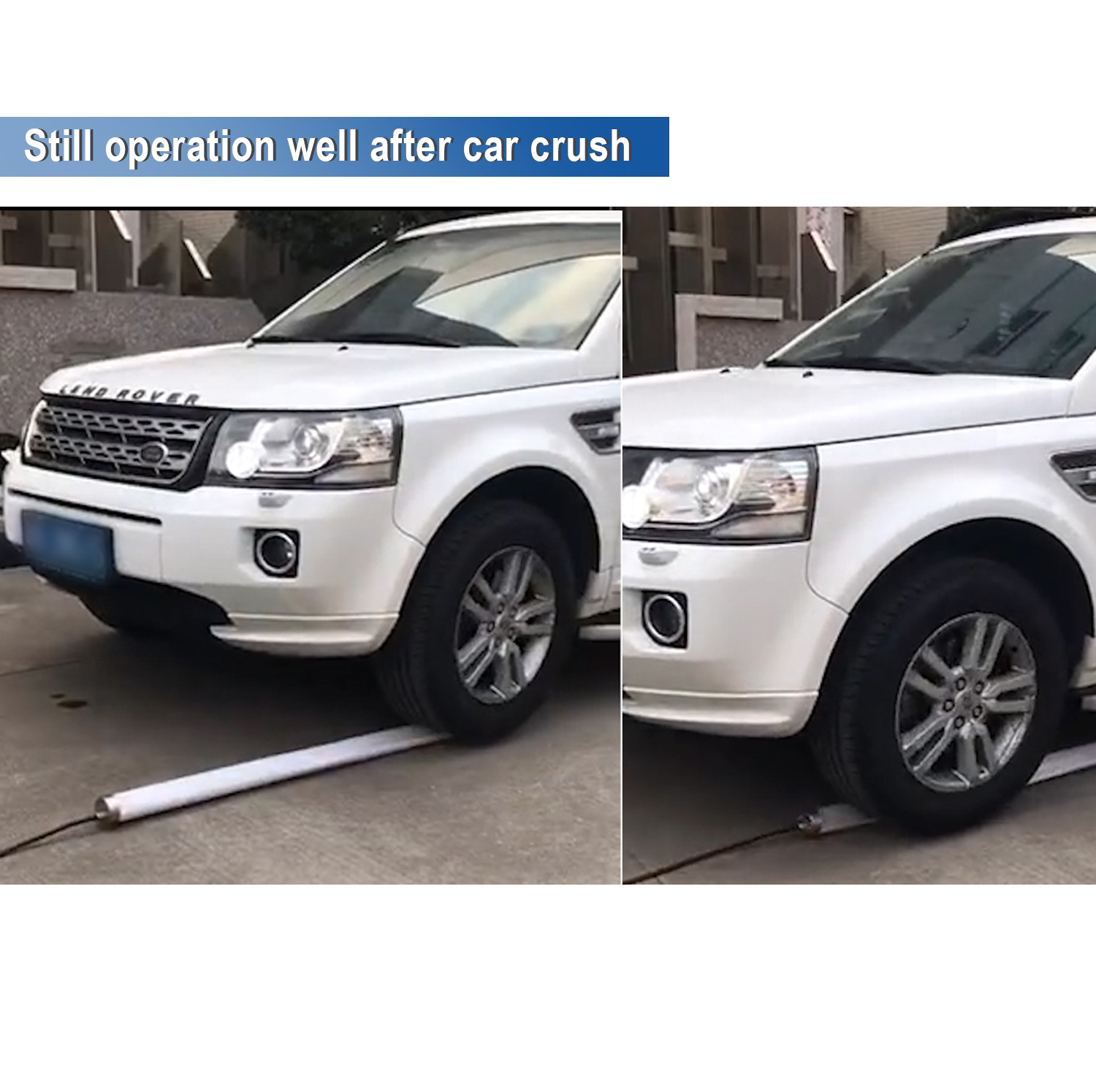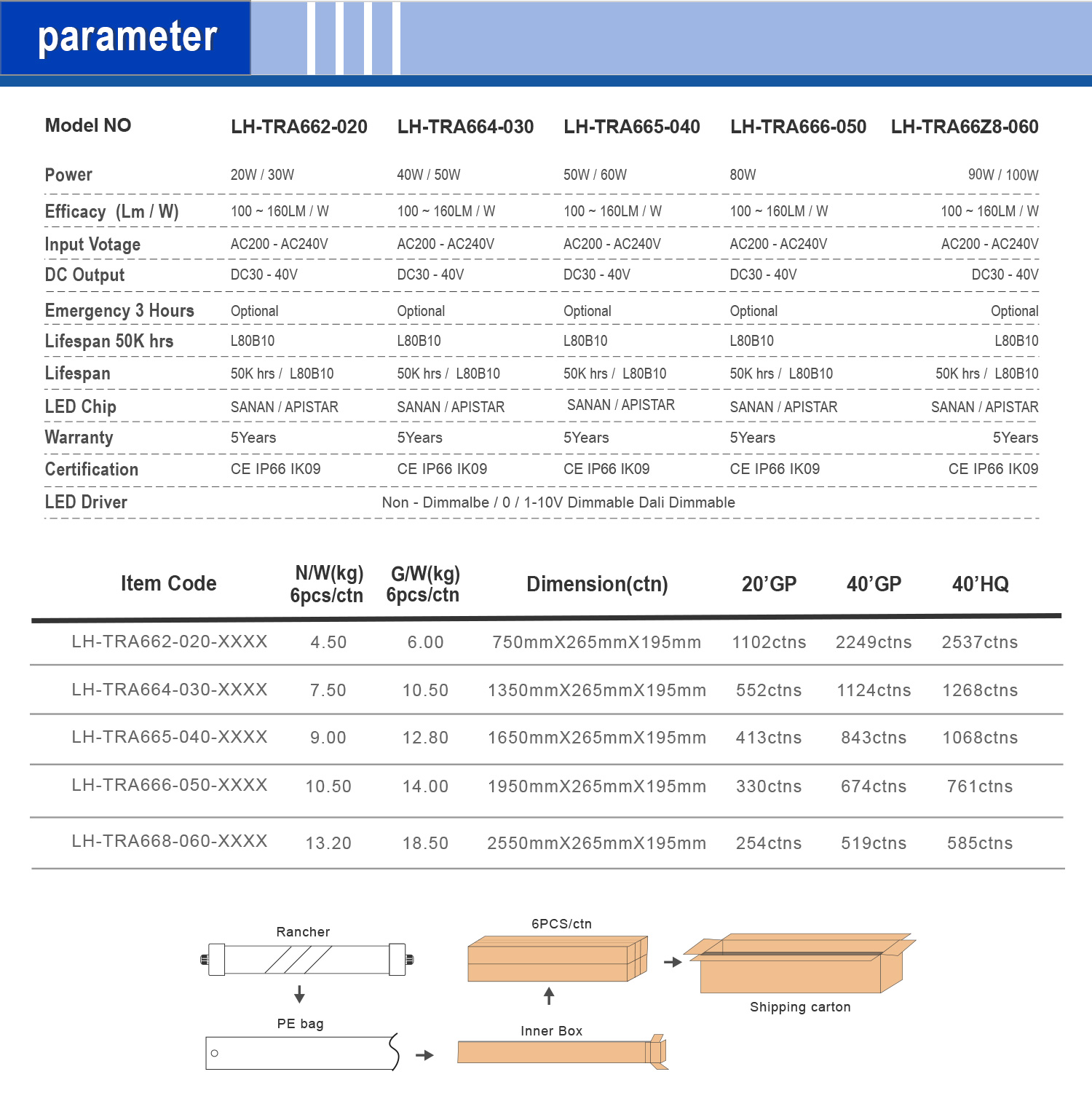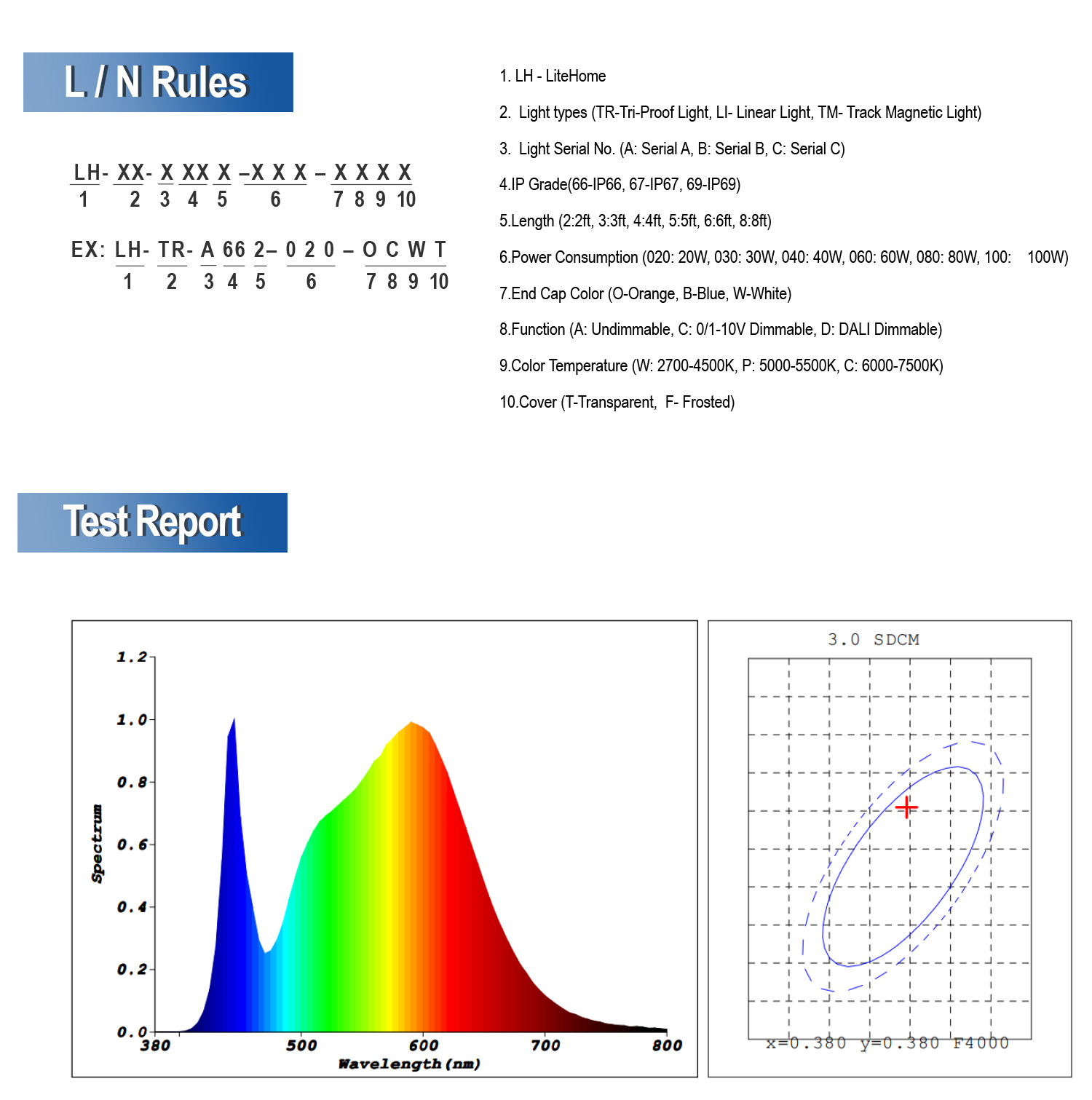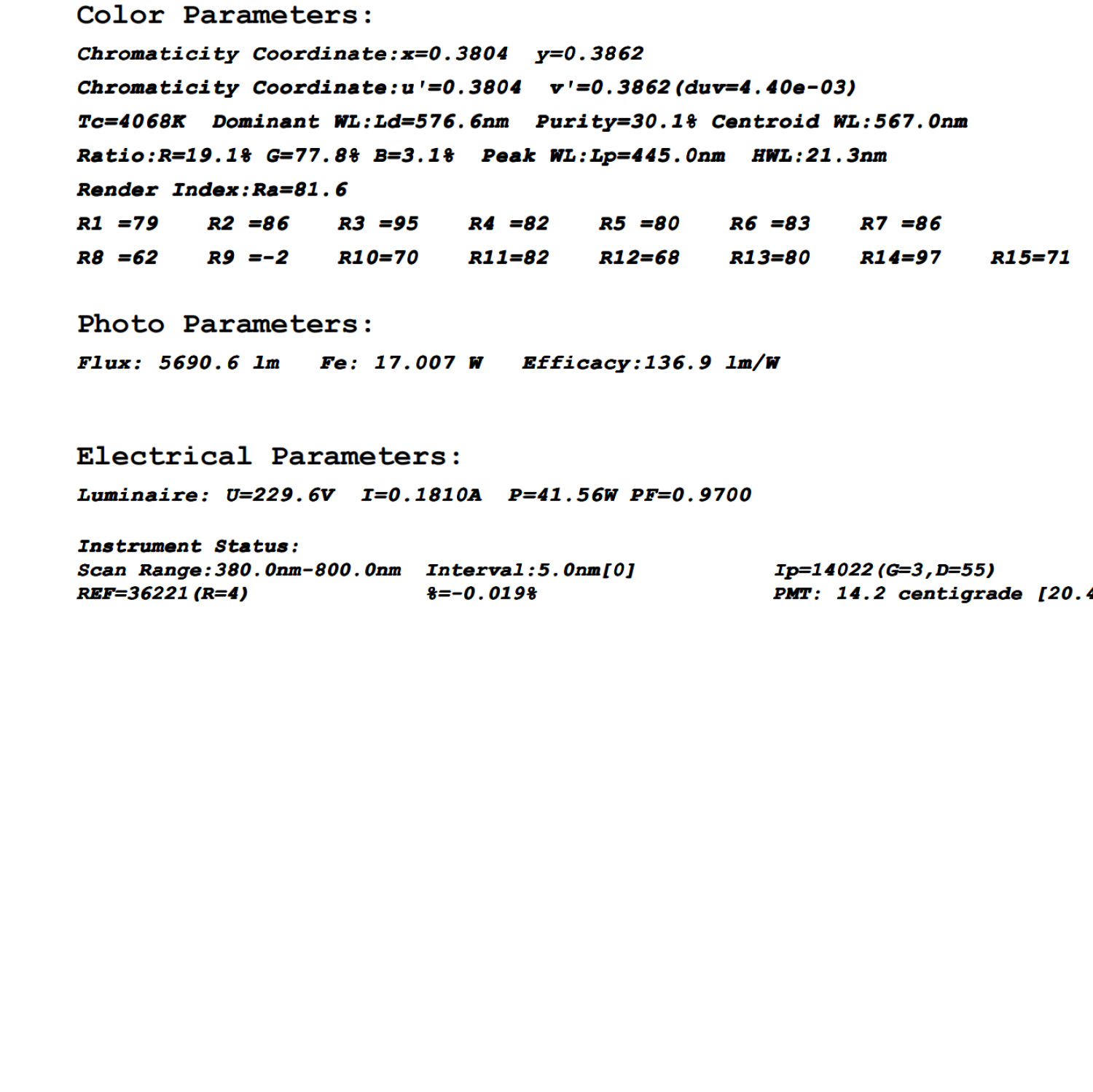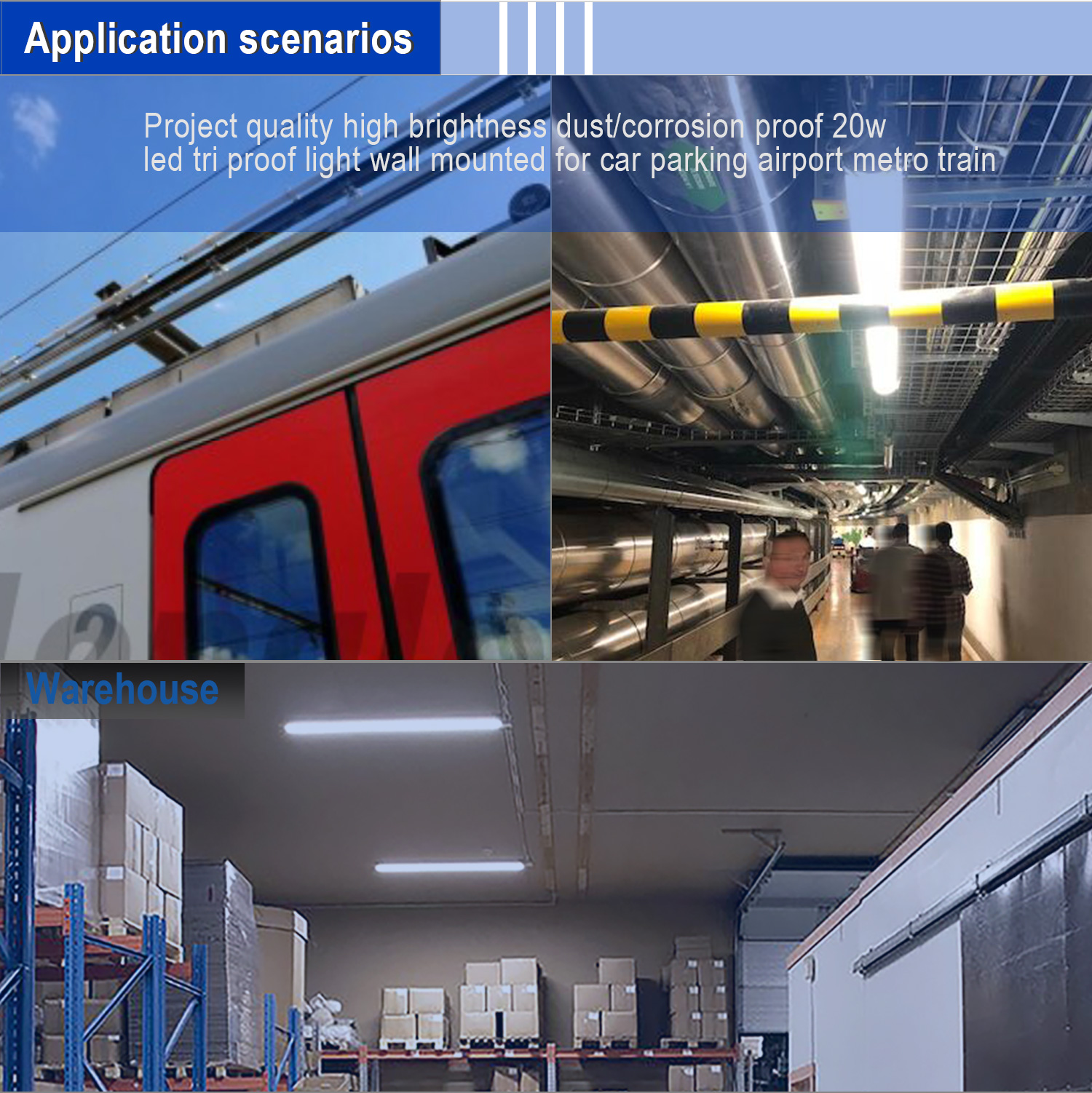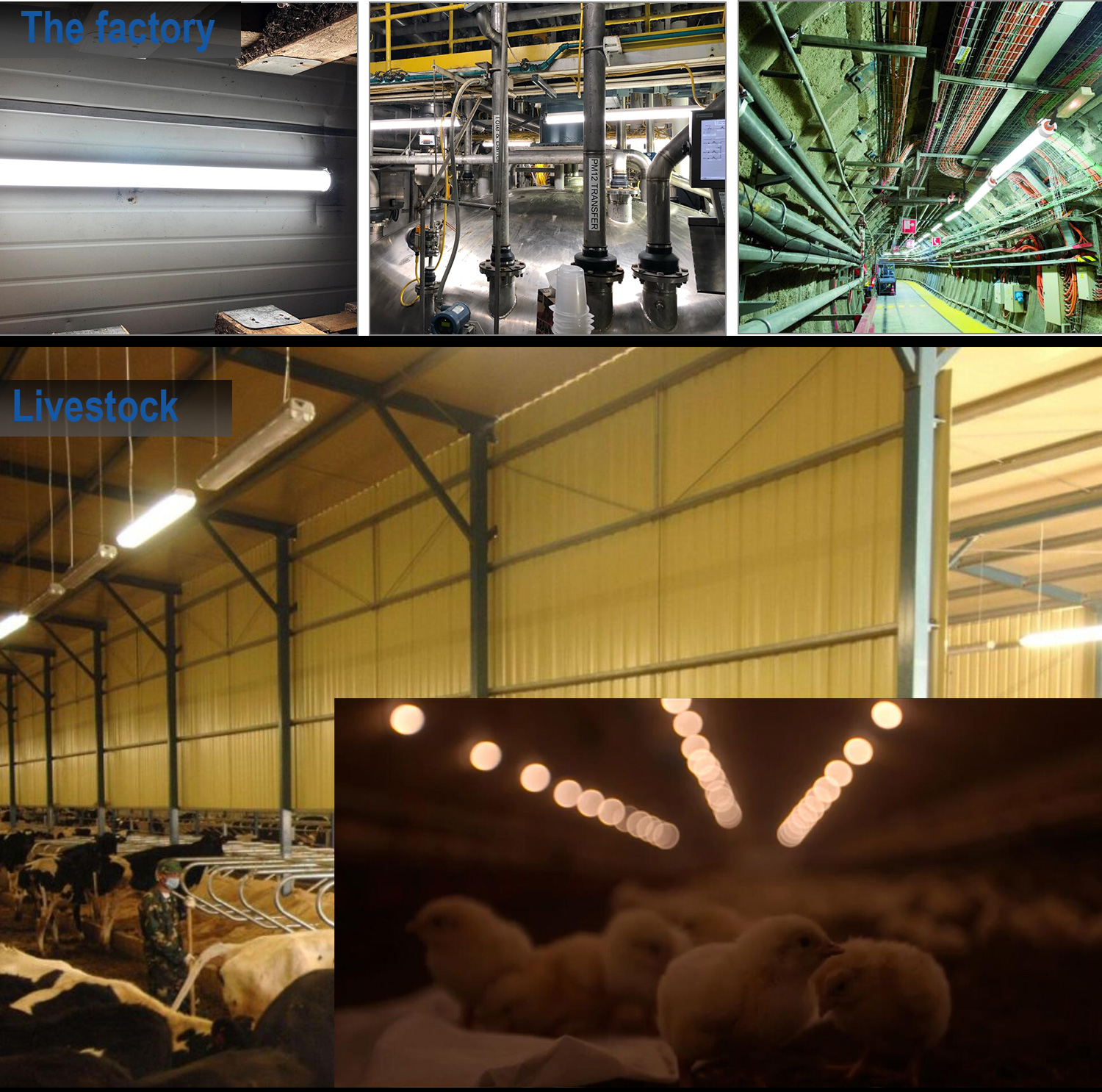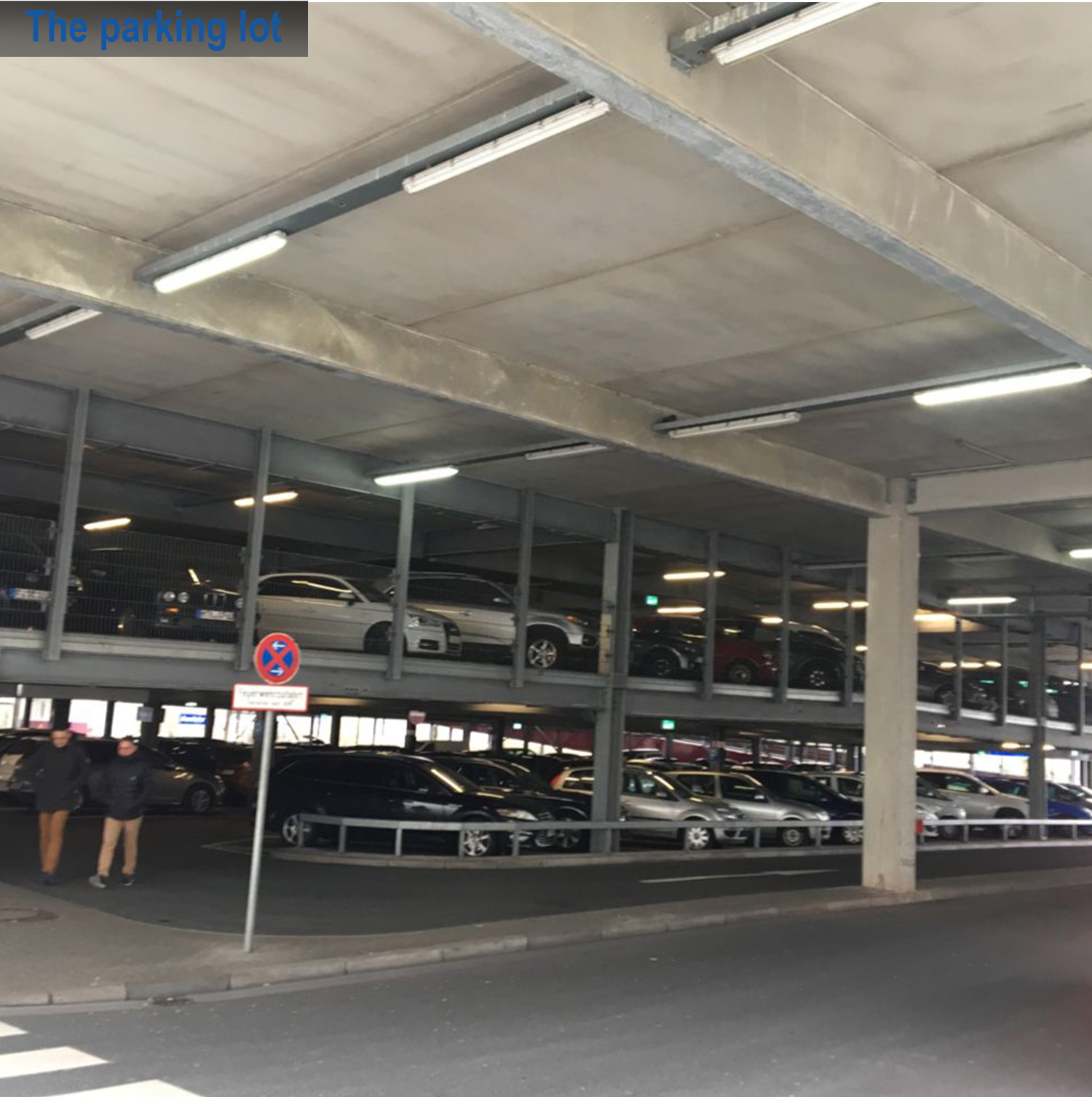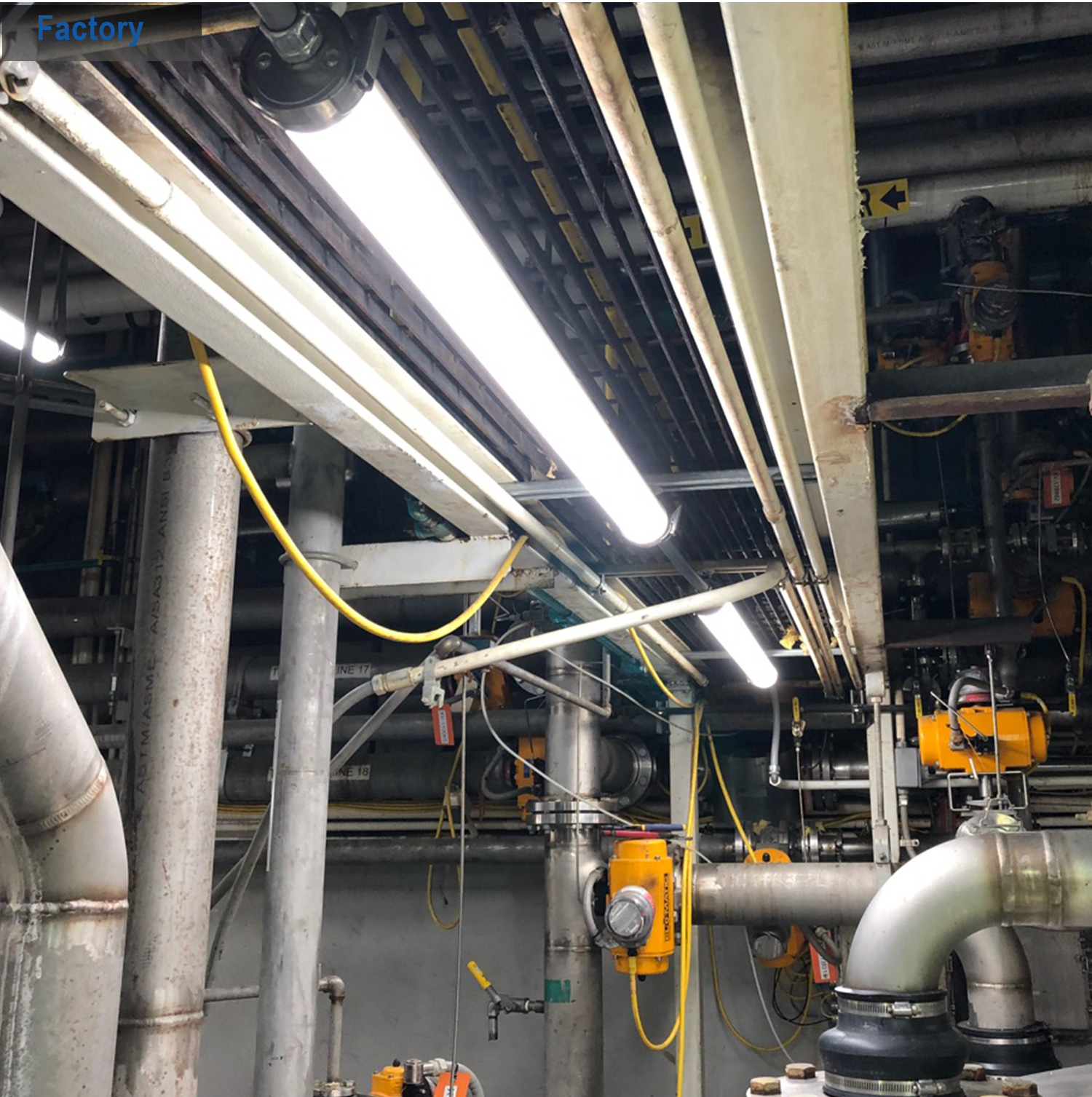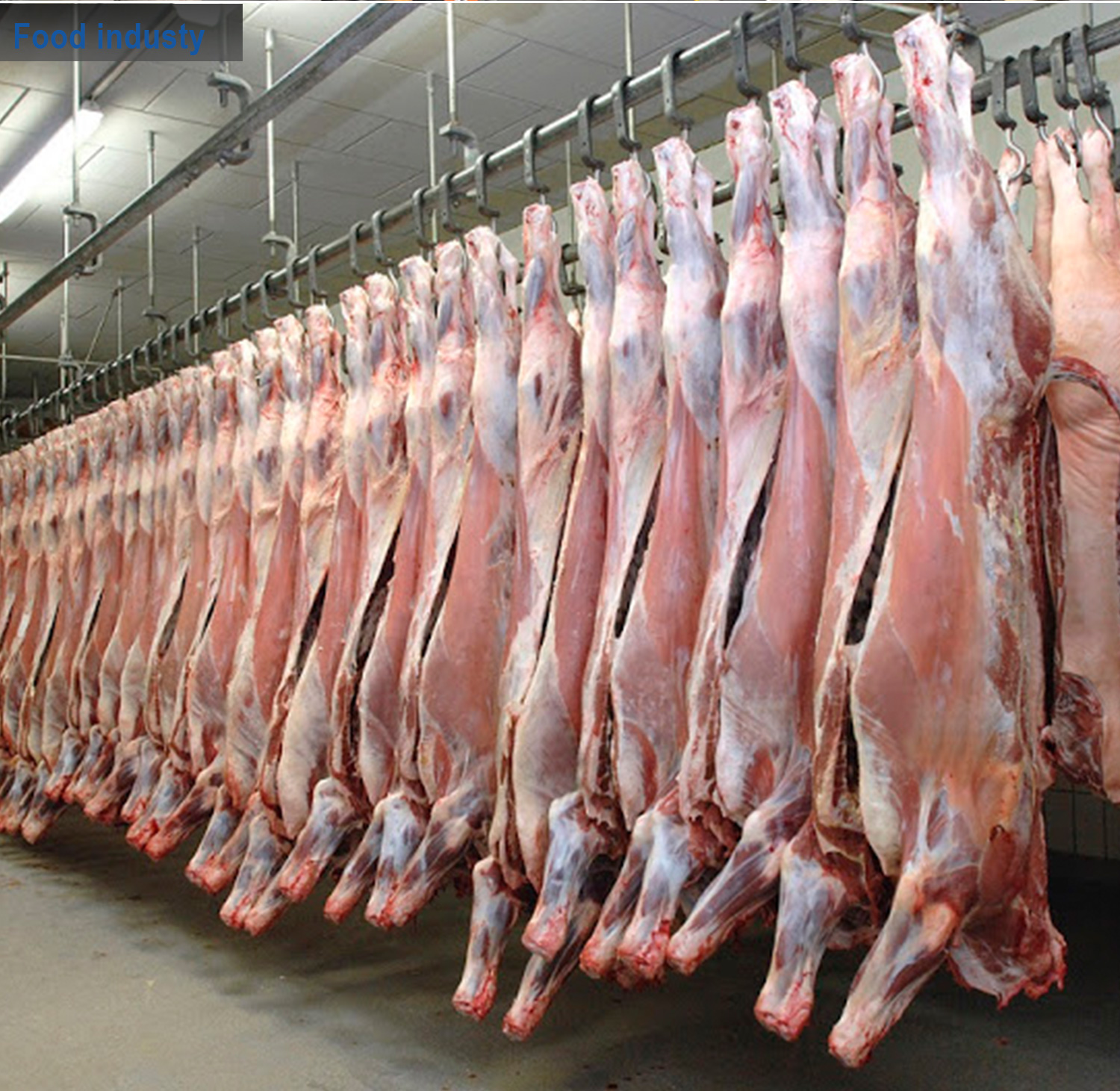 What is LED Tri Proof Light ?
LED Tri-proof Light is also known as LED VAPOR TIGHT FIXTURE / Led Waterproof light fixture / Triproof light / Batten fitting with LED / THREE PROOFING LAMP / Explosion proof light / led tube line / LED Batten Light / Micro wave motion sensor light / Garage light / emergency light.
LED Tri-proof light are durable and eco-friendly alternative lighting systems to traditional fluorescent tubes. the designed to withstand severe environments and will help you reduce your energy consumption by up to 80%.
LED Tri-proof Lights are specifically built to withstand conditions susceptible to water, dust and corrosion impacts.
LiteHome LED tri-proof light are Incredibly durable and long lasting, they are highly resistant to heavy impacts and can withstand temperature variations of up to 50°C.
The sealing treatment on to them are some of the features responsible for its quality and durability. also prevents the entrance of water and dust.
LiteHome LED Tri-proof light & LED Vapor Light fixture are vandal proof, which makes them perfect for applications where the possibility of vandalism is high.
Its connectors and plugs have a double insulation to ensure safety and reliability which is why it is best suited in conditions with high humidity and corrosion. The thickness also ensures that it is able to withstand high temperatures without melting the coatings.
Apart from the many advantages such as 80% energy saving over traditional fluorescent tubes, Our Tri-proof lights fixture is extremely rugged. It comes along with a high-quality casing that makes it suitable for environments such as subway stations, hallways, stairwells, factory production area, warehouse and schools.
Apart from its high efficiency and durability, its quality is also high. This is what makes our LED Tri-proof light the best lighting solution with a performance you can trust.
Here are some of the advantages/features that make our Tri proof Lights the best.
Energy Saving
LED Tri-proof Light is suitable for applications where a low energy solution is required or when you want to cut down your energy spending. It saves up to 80% of energy compared to traditional fluorescent tubes.
Multi-installation Methods
Our LED Tri-proof Lights comes with many options that can allow you to mount it anywhere and anyhow from wall mounting installation or suspensions.
Components Saving
Unlike the traditional fluorescent tubes, IP66 Tri-proof Light does not require ballast and starter to operate.
Extremely long life
LiteHome LED Tri-proof Light lowers the cost of maintenance by reducing the frequency of re-lamp.
Solid State
LiteHome LED IP66 IK09 LED Tri proof Light are shockproof and vibration proof. They are constructed with a double and thick layer which eliminate the chances of electric shock, and ground wiring is not necessary either
Eco-Friendly
It does not emit any Hazardous rays such as UV or IR Radiation, and it does not contain lead or mercury either.
LiteHome LED is here to offer the best-LED lighting solutions. It does not matter what your lighting needs may be; we offer everything that can suit your home and your work space including our LED tri-proof lights.
Whilst using much less energy. Our tri-proof light fittings use considerably less energy and still just as bright due to the highly efficient LED chips used; It reduces the number of bucks you would typically spend. Our prices are considerably low, and we are committed to providing high quality LED products.


FAQ
1.What products do LiteHomeLED produce?
We focus on the development and production of LED Linear Light.the elegant and uniform light according to different applications like supermarket, retail places, warehouses, offices, lecture halls, play courts, gymnasium, workshops, car parks.
2.How about the MOQ ?
Lower MOQ of 6Pcs/Ctn per style.
3.How about the r&d customization capability?
Professional R&D center: Employed designers with 15 years working experience in LED Lighting industry.Each month will release a new series of products.OEM and ODM are warmly welcomed.
Advantages
1.supermarket LED Linear lights
2.FOCUS ON LED LINEAR LIGHTING
3.OEM & ODM FOCUS ON LED LINEAR LIGHTING Magnetic Led Track Light
4.LED Track Linear lgihts, LED Track lights
About LiteHome
Shenzhen Litehome Optoelectronic Technology Co., Ltd. is focus on led linear lighting oem&odm. Litehome led lighting manufacturers is a new high-tech enterprise and lighting manufacture, which combined with R&D, production and sales department. china recessed mounted led linear grille lamp suppliers hanging light suppliers, low bay linear light, china indoor grille linear light factory, fcc ul dlc etl cul cetl certification lighting of north america, ce tuv enec vde erp lighting of European, vde erp lighting of Germany, ce tuv enec ce ukca erp lighting of United Kingdom, ce tuv enec erp lighting of France, ce tuv enec vde erp l80b10 lm79 lm80 lighting of European Netherlands, ce certification lighting of Italy, SASO SASO2870 CNAS NO.L4595 certification led lighting of Orient Dubai UNITED ARAB EMIRATES
Suppliers
Floor 3, building C, Zhaofeng Industrial Park, No. 16, Shuitian 1st Road, Tongle community, Baolong street, Longgang District, Shenzhen, P.R.C