toilet container made by cheap prefab steel frame portable mobile tiny cabin house
2 years ago
toilet container is also called container toilet,container shower,container bathroom,mobile toilet,portable toilet etc.
it is designed from our detachable container house,and 20ft container toilet is the standard size.it can be added shower to make it mobile shower,and can be added toilet to make it portable public toilet.it can be also seperated into two parts,one part for male ,the other part for female.
Suppliers
400m north of yuhuang middle school,chenggang road,laizhou city,yantai city,shandong province,china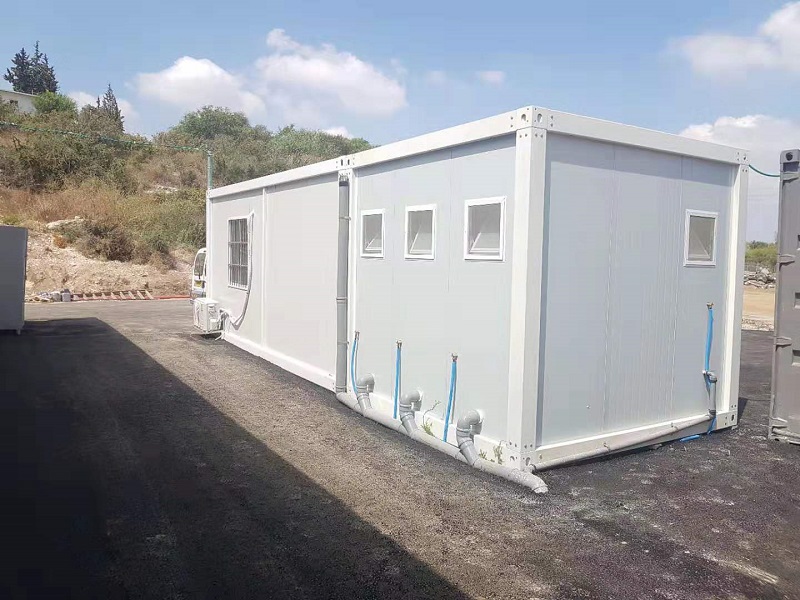 This container toilet is made by 10ft container house,it is with 3 toilets and 1 unrinal inside.
detailed specification is as follows
| | |
| --- | --- |
| NAME | SPECIFICATION |
| size | W3010*L3010*H2810mm |
| frame | galvanized frame+powder coating |
| wall | 50mm/75mm EPS/rock wool/glass wool sandwich panel |
| roof | 50mm/75mm EPS sandwich panel |
| sub floor | 18mm thickness fiber cement board |
| surface floor | 1.6mm pvc tile |
| door | steel door |
| window | pvc window |
| electricity | we sugguest you buy locally to meet the local electricity regulation |
| plumbing | can be installed on back or botoom |
MODELS OF CONTAINER TOILET
we have other models of container toilet as follows
DRT-1
Size:W3010*L5940*H2810mm
50mm eps sandwich panel for wall&roof
Steel security door
Sliding window single glazed
Wash basin,toilet,toilet partition
Without plumbing
Without electricity
18mm fiber cement board+1.6mm pvc floor
With 0.4mm thickness extra single sheet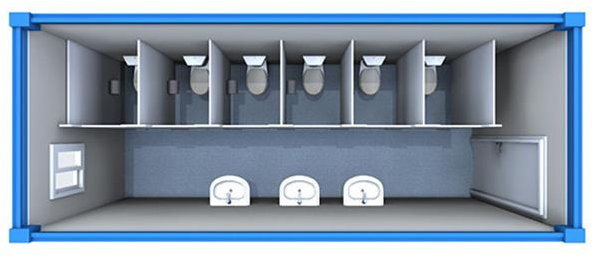 DRT-2
Size:W3010*L5940*H2810mm
50mm eps sandwich panel for wall&roof
Steel security door
Sliding window single glazed
Wash basin,toilet,urinal,toilet partition
Without plumbing
Without electricity
18mm fiber cement board+1.6mm pvc floor
With 0.4mm thickness extra single sheet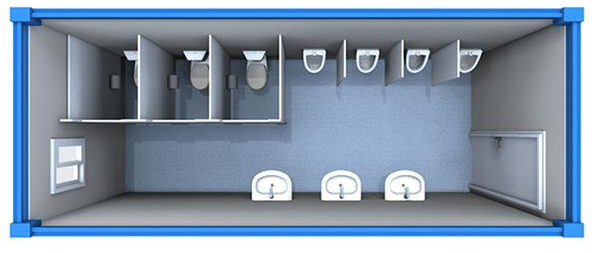 DRT-3
Size:W3010*L5940*H2810mm
50mm eps sandwich panel for wall&roof
Steel security door
Sliding window single glazed
Wash basin,toilet,shower,toilet partition
Without plumbing
Without electricity
18mm fiber cement board+1.6mm pvc floor
With 0.4mm thickness extra single sheet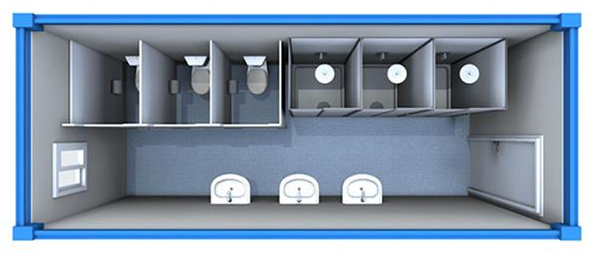 DRT-4
Size:W3010*L5940*H2810mm
50mm eps sandwich panel for wall&roof
Steel security door
Sliding window single glazed
Wash basin,toilet,shower,toilet partition
Without plumbing
Without electricity
18mm fiber cement board+1.6mm pvc floor
With 0.4mm thickness extra single sheet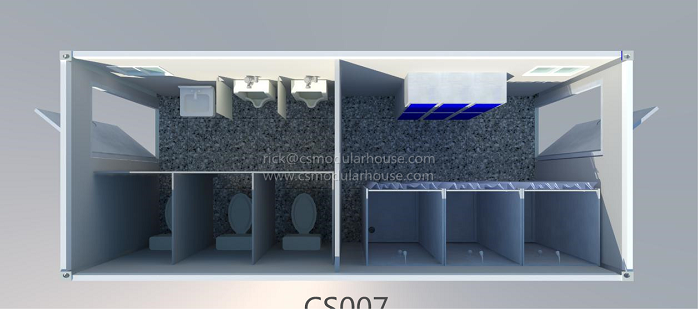 DRT-5
Size:W3010*L5940*H2810mm
50mm eps sandwich panel for wall&roof
Steel security door
Sliding window single glazed
Wash basin,toilet,shower,toilet partition
Without plumbing
Without electricity
18mm fiber cement board+1.6mm pvc floor
With 0.4mm thickness extra single sheet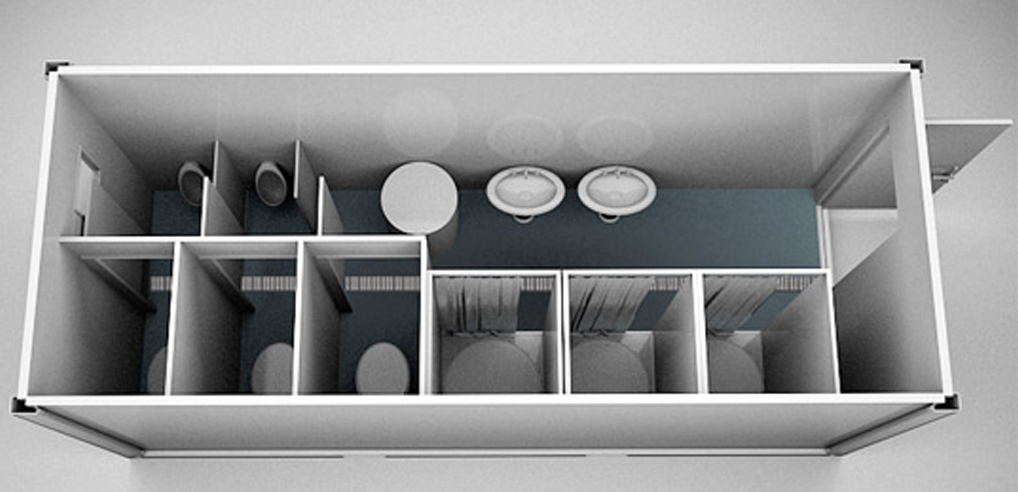 DRT-6
Size:W3010*L5940*H2810mm
50mm eps sandwich panel for wall&roof
Steel security door
Sliding window single glazed
Wash basin,shower,toilet partition
Without plumbing
Without electricity
18mm fiber cement board+1.6mm pvc floor
With 0.4mm thickness extra single sheet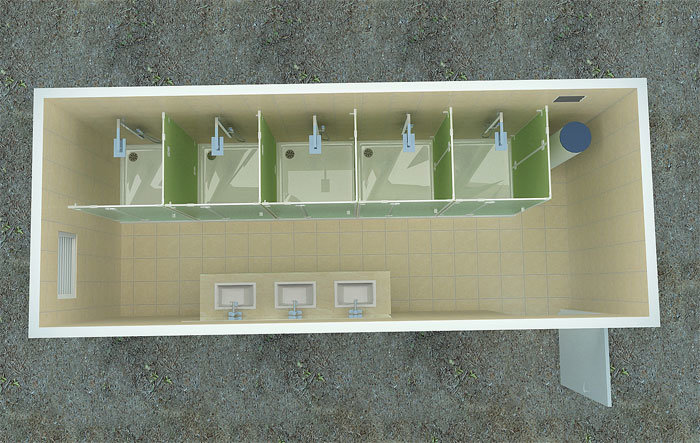 DRT-7
Size:W3010*L5940*H2810mm
50mm eps sandwich panel for wall&roof
Steel security door
Sliding window single glazed
Wash basin,toilet,toilet partition
Without plumbing
Without electricity
18mm fiber cement board+1.6mm pvc floor
With 0.4mm thickness extra single sheet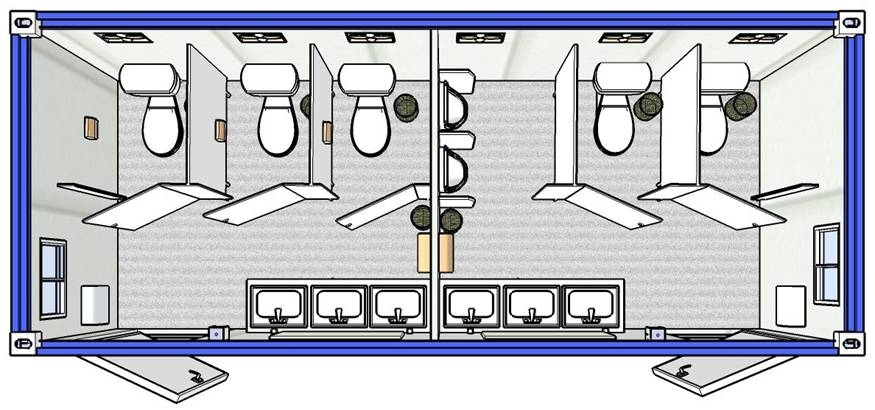 DRT-8
Size:W3010*L5940*H2810mm
50mm eps sandwich panel for wall&roof
Steel security door
Sliding window single glazed
Wash basin,toilet,toilet partition
Without plumbing
Without electricity
18mm fiber cement board+1.6mm pvc floor
With 0.4mm thickness extra single sheet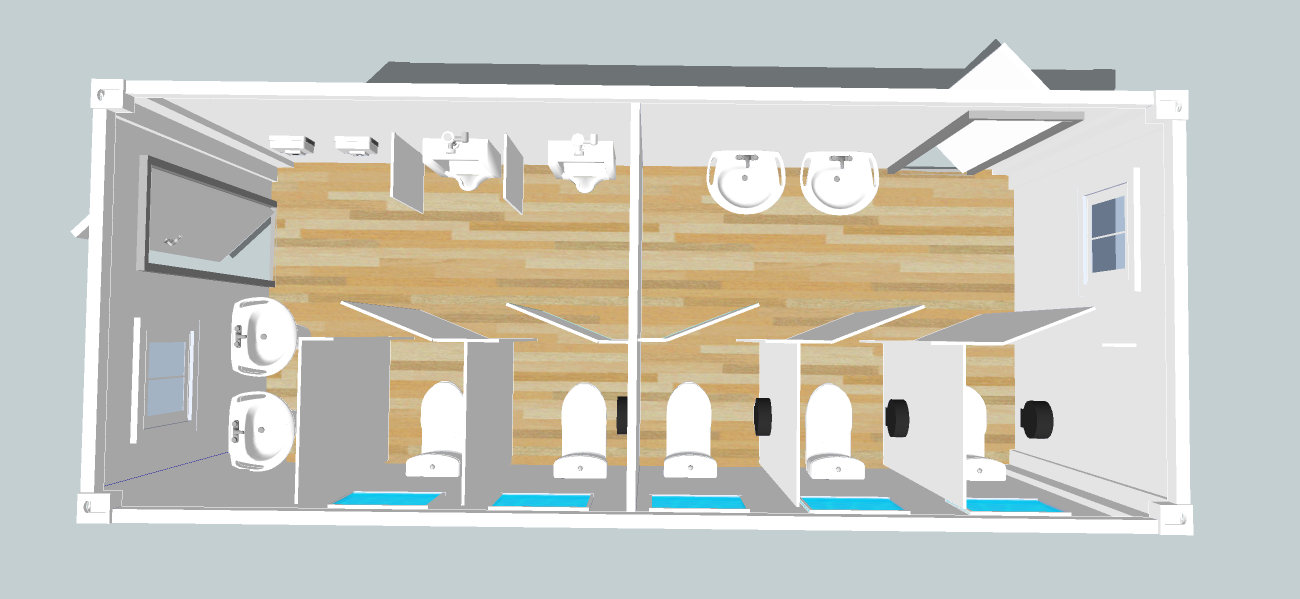 almost all of the suppliers will load the parts of prefab house pieces by pieces in container.the sandwich panel is easy to be damaged we weld steel pallet on bottom,and wrape plastic film all around to protect the materials

Dingrong passed many certificate such as ISO ,CE,SGS etc