Best Top quality pharmaceutical NJP 200 400 800 1200 automatic capsule filling machine for sale FactoryPrice-Sino
2 years ago
The njp-1200 series capsule filling machine designed and produced by our factory has been improved and innovated many times according to the current domestic production models and absorbing the advanced technology from abroad, making the machine beautiful, easy to operate and superior in performance.
Sino Best Top quality pharmaceutical NJP 200 400 800 1200 automatic capsule filling machine for sale factory price-Sino,SINOPED has been engaged in the purification technology and application. And we have the R&D team, performing continuous product research and improvement from time to time.
Suppliers
No. 85, Ganqu Road, Tiexi Industrial Park, Liaoyang City, Liaoning Province
SPECIFICATIONS FOR NJP AUTO CAPSULE FILLING MACHINE

Capacity

Capsules/min

1200

Hole Quantity

set

9

Dust collecting




20Kpa 210m3/h




Filling Accuracy




±2.5%-±3.5%

Overall Size

mm

1185 * 1170 * 2000

Power Supply&Power

KW

380V,50HZ,3P / 5

Weight

KG

1100




1200




00,0,1,2,3,4
https://www.alibaba.com/product-detail/Top-quality-pharmaceutical-njp-200-400_62353613439.html?spm=a2747.manage.0.0.4c6a71d2y8eKS7

Sino is guaranteed with high quality. It will be checked for its cleaning performance by placing it in the swimming pool under the help of our QC team.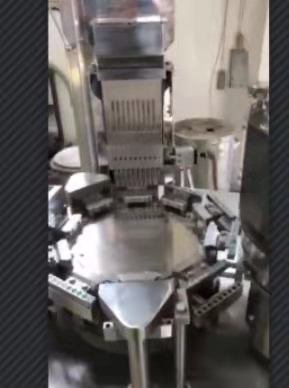 FAQ
1.Why choose your company?
We have been engaged in the manufacturing of various packing machines professionally for over 10 years, and we can provide better after-sales service.
2.Are you a factory or a trading company?
We are the manufacturer and have been in the industry for more than ten years.
3.We are afraid you won't deliver us the machine after we pay you the money.
Please note our above business license and certificates. And if you don't trust us, you can use Alibaba's trade assurance service or by LC.
Advantages
1.Each procedure of the production process is conducting under the strict quality control system. Our QC inspects each lot of the incoming material and the finished products carefully so that we can supply the best products for customers.
2.We will supply you a proposal as to your specific requirement, and each machine is customized to satisfy customer's needs well.
3.SINOPED has been engaged in the purification technology and application. And we have the R&D team, performing continuous product research and improvement from time to time.
4.Our products are certificated by the most prestigious national and international institutes.
About Sino
(SINOPED) is a professional manufacturer and supplier of pharmaceutical and chemical machinery and equipment in China. We belong to SINOPEC International Group. We have a well-experienced team to manufacture pharmaceutical machinery and equipment and a professional design institute. With rich experiences in the pharmaceutical machinery and equipment field and numbers of professional engineers, we have designed and developed many types of machinery and equipment including cleanroom project, soft-gel production line, glass-lined reactor, fermentor, centrifuge, granulator, mixer, dryers, pulverizer, tablet press, soft and hard blister packing machine, capsule filling machines, carton, and rollers, etc. Due to our good credit and service, we have made great achievements in the past years. We have established long-term business relations with many customers and some of our overseas customers have appointed us to be their purchase agency in China. Our products are exported to many countries & areas, such as Korea, India, Indonesia, Pakistan, Thailand, Vietnam, Japan, Denmark, Romania, Bulgaria, Russia, South Africa, Nigeria, the USA, Australia, Canada, Argentina, and Chile.